Pre-Christmas Events In The Mother Lode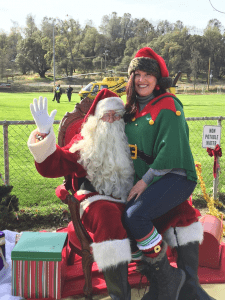 St. Nick and Mrs. Claus at 2017 Santa-Fly-in and Interfaith Coat Drive

View Photos
Before holiday guests arrive here are some pre-Christmas events to participate in.
As featured in the KVML "Newsmaker of the Day" is the Athletic Scholarship Foundation of Tuolumne County who benefits from donations to an animated Christmas Light Show happening in the Phoenix Lake area each night through Christmas Eve. Details are here.
From 3:30PM to 5PM today enjoy a Gingerbread Party with Santa at the Tuolumne County Library
Tomorrow the Jamestown Girl Scouts will host A Kids' Holiday Shop from 12:30PM until 6:30PM at the Jamestown Community Hall. Gifts for sale are all under $5 and many for $1 crafts for kids.
The Sierra Repertory Theatre will give its last performances of Another Night Before Christmas at the East Sonora Theatre tonight, Friday and Saturday.
In the spirit of the holiday season be ready for a Stuff the Bus event infront of the Sonora Wal-Mart on Saturday, December 23rd from 9 AM to 5 PM. Volunteers will handout a list of needed items to anyone interested in participating. After shopping, people can drop off their contributions for storage in the bus. Distribution of donated items with happen with the assistance of the Jamestown Family Resource Center at local parks and other identified locations. The event is organized by the Community Solutions Group: Mark Dyken, Shelley Muniz, Richard Darrow, Patty Ervin, Robin Walters, Sarah Garcia, Alicia Merry, Mario Delise, Albert and Aneva Sanchez. All the Stuff the Bus details are here.
Those who have signed up to help at the fairgrounds are getting ready to serve the annual Christmas dinner. The KVML "Newsmaker of the Day" interviewed Tuolumne County's Community Christmas Eve Day Dinner coordinator, Cathy Peacock here.
This whole week Santa is at his Workshop at Coffill Park from 3PM to 5PM thru Saturday and on Sunday, Dec 24th he is scheduled to appear at Noon and remain until 2:30PM.