A Christmas Light Show Courtesy Of ASFTC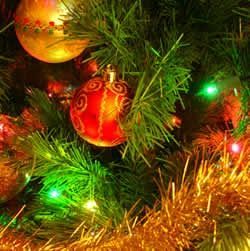 Christmas Tree Lights

View Photos
The Athletic Scholarship Foundation of Tuolumne County will host an animated Christmas Light Show each night through Christmas Eve. This is a show that is synchronized to music and features over 6,000 lights.
Jim Cruff, President of the Athletic Scholarship Foundation of Tuolumne County, was Thursday's KVML "Newsmaker of the Day".
The public will find the house at 21768 Joyce Court Sonora, CA 95370.
From Highway 108 in east Sonora, drive for five miles on Phoenix Lake Road. Turn right at Joyce Court. It is the last house on the right.
Joyce Court is a narrow private road. The show is at the last house on the right. If there is a lot of traffic when you arrive, park at the end of the court and walk to the house. The walk is only 100 feet. You should bring a flashlight. It's dark on the street — despite the light show. The public is asked not to drive in anyone's driveway.
Showtime is every night through Christmas Eve, from 6 PM through 8:45 PM.
The show features over a dozen song including the following:
Wizards of Winter (TransSiberian Orchestra)
Let It Go (Idena Menzel from the movie Frozen)
Dueling Jingle Bells (US Navy Band)
I Want a Hippopotamus For Christmas (Gayle Peevey)
Born in the USA (Bruce Springsteen)
Somewhere Over the Rainbow (Israel Kamakawiwoole)
The ASFTC does not charge for the light shows. If a person is so inclined, and wants to help, they will accept donations. Donations go directly to children's sport grants.
What does the ASFTC do? "We write sports grants for children in Tuolumne County that are part of a low-income family, said Cruff. "If children want to play sports but the family cannot afford to pay the fees, we work with the family and league but make sure that child plays the sport they want to play,
Financial aid from the Athletic Scholarship Foundation of Tuolumne County can help pay common fees and equipment costs. They work with, but are not limited to, local soccer programs, Little League, Softball and Gymnastics facilities.
​
The ASFTC is a 501(c)(3) non-profit organization with a goal of a strong community and healthy children. According to Cruff, children that participate in sports are healthier and perform better in school than those that don't.
Cruff said that the ASFTC is supported by an all-volunteer board of directors and office staff. "We strive to put every penny of our fundraising into athletic programs."
Thanks to a very generous community, they are able to work closely with local sports leagues to ensure that any child in need that wants to participate in sports can participate in sports. They do not fund High School sports programs or camps.
For more information on the Christmas light show, log on to http://www.asftc.org/light-show or call 209-651-2001.
The "Newsmaker of the Day" is heard every weekday morning at 6:45, 7:45 and 8:45 on AM 1450 and FM 102.7 KVML.