Update: Calaveras Supes Try Again To Enact New Cannabis Rules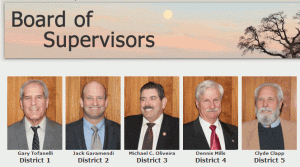 Calaveras County Board of Supervisors

View Photos
Update 6:10 p.m.: While the supervisors indicated they were willing to continue the meeting until 8 p.m. if they were getting close to a resolution, they pulled the plug at 6 p.m. and scheduled a special meeting Thursday (Dec. 21) at 9 a.m.
Earlier the supervisors of districts 4 and 5, Dennis Mills and Clyde Clapp attempted to bring the draft cannabis ban ordinance to a vote, which failed to get support from the other three board members.  However, District 1 Supervisor Gary Tofanelli, stressed that he was not ruling out voting for a ban unless all the restrictions that he outlined in previous meetings were included in a regulatory version.
As today's meeting, Thursday's session will be held in the supervisors chambers at the government center in San Andreas.
Original post at 2:38 p.m.: San Andreas, CA — Today the Calaveras supervisors are hoping for what some might describe as akin to a Christmas miracle — passing a permanent ordinance to replace the county's urgency ordinance on commercial cannabis grows set to expire early next year.
As reported here, while up until recently, it looked like the supervisors might have had a three-vote bloc that would eventually swing towards enacting an outright commercial grow ban. However, back in October, county staff were directed to craft a strict regulatory draft that would greatly inhibit but still allow for a few grows in specific zones located away from rural residential areas, also adding layers of land use and environmental requirements and oversight.
This morning, following a few short consent agenda items, the supervisors heard a half-hour's worth of related public comments that still seem to span a pro-ban and pro-regulation spectrum of opinions. Clearly struck by the deeply divided audience, Board Chair and District 3 Supervisor Michael Oliveira shared a few words just ahead initiating an extended period of county staff comments.
"This has been a very long process for Calaveras County and personally, I have gone through two Calaveras County boards of supervisors in dealing with this issue and it has split this county in several different factions and it has caused people to do and say things that normally would not have been done," Oliveira intoned in a voice that telegraphed clear concern. He expressed the negative impacts on staff, a need to get back on an even keel, and went so far as to publicly apologize for bad behavior from citizens, staff and supervisors that have contributed to sharpening the divisions.
Following a lunch break the supervisors heard more staff input before re-opening the floor to more public comments after which they will attempt to come to a vote on one of three alternatives, one of which is still an outright ban. We will provide an update as to the outcome of the meeting.