Calaveras Supes Sway 3-2 In Favor Of Cannabis Regulation Plans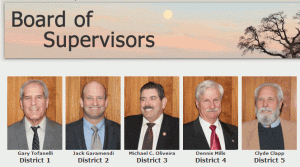 Calaveras County Board of Supervisors

View Photos
San Andreas, CA -– An apparent sea change hit the Calaveras supervisors chambers this afternoon with the casting of a swing vote in favor of commercial cannabis cultivation rules over an outright ban.
As reported here, months long attempts to push a ban ordinance were last week shut down by the release of a 60-page report commissioned and introduced by District 4 Supervisor Dennis Mills, one of the two most vocal ban proponents. Board Chair and District 3 Supervisor Michael Oliveira moved to reschedule board discussion until today. It allowed stakeholders to digest the document, which called for a shutdown of the local cannabis industry and an intervention of state and federal agencies due to potentially disastrous environmental impacts to the foothills region that are potentially creating hazardous water supplies for other parts of the state.
After hearing presentations from county consultants and staff along with several hours of public input the supervisors finally began to weigh in with their own thoughts in the three o'clock hour. Unsurprisingly, Mills and District 5 Supervisor Clyde Clapp both continued advocating that a ban was the county's only viable option.
District 2 Supervisor Jack Garamendi, the only outspoken pro-regulation proponent, maintained his position that the regulations and enforcement system enacted under the flawed urgency ordinance was now beginning to work, as Sheriff Rick DiBasilio himself has publicly affirmed. Too, he pointed out, regulatory fees and growers' taxes would provides the means to helping maintain public safety and eliminate illegal grows in a county and state where the marijuana industry has already been established. Oliveira publicly intimated for the first time that while his personal position was for a ban he would lean towards strict regulations over a ban.
Tofanelli Speaks Up
But it was District 1 Supervisor Gary Tofanelli, who had seemingly up until recently seemed in lockstep with Mills and Clapp, who surprised the room. Speaking for several minutes he shared the lengths he had gone to as many months to do his due diligence, stating that the biggest single issue was neighbor issues due to grows in residential areas where they do not belong. He also mentioned several recall threats he received over the period, both from those calling for a ban as well as from pro-growers, remarking that while the Butte Fire and winter storm disasters brought the county together, sharp division over marijuana was tearing it apart.
As he continued to talk for perhaps as long as he had in supervisors' meetings all year Tofanelli laid out what he described as what it would take for him to support a regulation ordinance, over and above the provisions recommended by the Planning Commission in the ban alternative option it provided to the board. These were recorded by Planning Director Peter Maurer to incorporate after a board vote was called and passed 3-2 that directed staff to prepare and expedite a draft regulatory ordinance for review.
Among Tofanelli's terms are the halting of all growing within 30 days of enacting the new regulations, excluding all grows within Rancho Calaveras and any other residential zoning and allowing only currently permitted or pending applicants to be eligible going forward. Other conditions would limit grows to one per site — regardless of site size — and per property owner or registrant. Parcels would require some form of onsite residence that could not be a tent and at least a 500-foot setback of grows from all property lines. Operations located in the M1, M2 and M4 zones would have to remain indoor and indoor grows would be mandated to have air filtration. When the state's certified organic program comes online, all county grows would need to conform to those regulations.
He also stipulated all growers need to get a complete clean bill of health on their site within a year by being reviewed again as well as by submitting soil and water samples to a county-approved lab for testing that would be paid for by the applicants and must be certified as clean by an independent lab prior to applying for a new permit. Soil sampling would also have to be taken from outside each grow area in order to establish a baseline profile for future reference. The sampling would be required twice a year; once in the spring before planting and once before harvest.