Eradication Team Targets $2.6 Million In Illegal Cannabis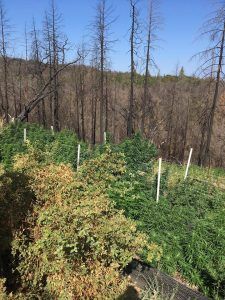 Nikki Trail Site of Eradication Sept 15 2017

View Photos
San Andreas, CA — Calaveras sheriff's officials are reporting the demise of another illegal grow of 788 plants in the Mountain Ranch area that they recently targeted.
Calaveras County marijuana enforcement team and code compliance served an abatement warrant within the 7000 block of Nikki Trail, where upon their arrival Friday deputies encountered a still smoldering trash fire, open-top fertilizer containers and an open pipe flowing raw sewage into an open septic area.
Using a rough-estimate dollar figure of $3,000 per plant, the grow represents approximately $2.6 million in street value pot  Enforcement officials, including from CAL Fire noted the environmental violations as part of the visit. According to the sheriff's office one subject, Michael Braley, 42 of Las Vegas, was arrested during the process on an out-of-county no-bail misdemeanor warrant.
As reported here last week following eradications done near Burson and Mountain Ranch, Calaveras Sheriff Rick DiBasilio shared that enforcement activities would be stepping up in tandem with the marijuana harvest season now underway.