Calaveras Officials Make Hay 'Pre-harvesting' Illegal Cannabis Grows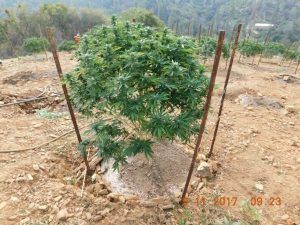 CCSO Sept 11 2017 Eradication Sites Evidence Photo

View Photos
San Andreas, CA – With the wafting skunk-like smells of ripening marijuana already permeating the county, Calaveras sheriff's and code enforcement officials headed out earlier today to take more illegal plants out of play.
Based on a rough estimate worth of $3,000 per plant, this morning's 1,200-plant eradication effort might equate to the elimination of about $3.6 million in black market pot. Sharing details Sheriff Rick DiBasilio reports, "Today we eradicated about 900 plants down in Burson off Arapahoe Way and…another site of around 300 plants…off Michel Road in the Mountain Ranch area."
He adds, "Because it is harvest season…there are a lot of people moving around. We are planning more operations in the near future — not only with code compliance but with the search warrant process." He emphasizes that code compliance eradications involve those who attempted to register grows and either did not make it through the process or did get a permit but then ran afoul of the rules under the county's urgency ordinance regulating medical marijuana. Those who are targeted under search warrants never registered in the first place and are what officials term as "bad actors" who may have been attempting to "hide in the herd."
As reported here, under the county's massive multi-agency Operation Terminus bust, which occurred over the first week in August, teams seized nearly 29,000 plants along with 31 tons of unprocessed marijuana and nearly a ton of processed pot, among other items. Citations were also issued by state environmental officials and County District Attorney Barbara Yook swore a dedicated deputy attorney to prosecute offenses as environmental crimes.
During enforcement's latest activities, Sheriff DiBasilio reports that plant trimming activities seem to be in progress at many grow sites — and there are signs that some illegal growers seem to have eradicated plants at some sites on their own, which cheers him without a doubt to see. He maintains, "We had a lot of people leave after our focus operation – but not as many as what we would have liked to have seen…but we will continue to go after those…the growers who are not registered or their registration was denied and they should not be growing."
Asked if enforcement activities in the coming days will lower the boom in similar fashion to Operation Terminus, the sheriff acknowledges, "In essence you are going to see some operations similar to that. I am not at liberty to say when they are going to happen…you will know because people will be scrambling."