Drug Deal Overheard Led To Bust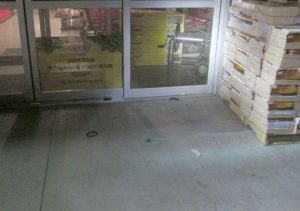 Items scattered at the entrance to business

View Photos
East Sonora, CA – Details of a drug deal caught the ear of a concerned citizen at the ampm gas station on Mono Way who then called 911.
It was 3 a.m. on Monday when Tuolumne County Sheriff's dispatch took a report regarding a suspicious circumstance at the business. A caller told them he overheard two subjects planning a drug deal at a nearby business within the hour.
While patrolling the area deputies spotted 24-year-old Mark Hyder of Twain Harte loitering near the front entrance of Tractor Supply, which is across from the ampm. A records check showed Hyder was on a searchable probation. Deputies discovered a hypodermic syringe loaded with methamphetamine, a digital scale covered with white residue, and other miscellaneous items scattered on the ground near the entrance where he had been hanging out.
Hyder was taken into custody and booked on charges of possession of a controlled substance, possession of drug paraphernalia and concealing evidence. He was also arrested back in August of 2014, as reported here, after he attempted to use a fake credit card at a Sonora restaurant, which led to a foot chase with Sonora Police Officers.