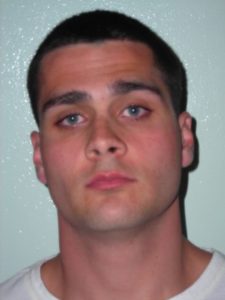 Mark Hyder

View Photos
Sonora, CA — Sonora Police Officers chased and captured a man trying to use a fake credit card at a local restaurant.
21-year-old Mark Hyder of Twain Harte attempted to purchase gift cards last night at the Sonora Applebees. His credit card was denied, and an employee noticed that Hyder's description matched that of someone who was sought by law enforcement for having fraudulently purchased hundreds-of-dollars worth of gift cards at the same restaurant over the past couple of months.
The Police Department was notified, and when the first officer arrived, Hyder took off running. A second arriving officer spotted the suspect hiding near some Blackberry bushes near the Lowe's parking lot. Hyder was captured and arrested. He was then taken to Sonora Regional Medical Center because he reportedly twisted his ankle and hit is head during the foot chase. He also had several cuts from the Blackberry bushes. He was later transported to Tuolumne County Jail.
The Police Department reports that Hyder has purchased over $500 worth of gift cards at Applebees over the past two months.
Hyder was also arrested in June of this year when he tried to use a fake credit card to rent a room at a Sonora hotel.