New Fire On The Stanislaus National Forest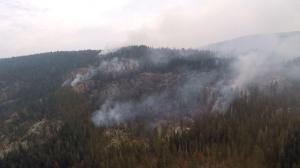 Creek Fire burning on the Mi Wok Ranger District of STF

View Photos
Tuolumne County – Stanislaus National Forest officials report a lightning strike Sunday ignited a blaze on the Mi Wok Ranger District.
The Creek Fire has burned 133 acres and is located in the Bourland Area of the district. Currently, there is no containment and no structures are threatened. The total personnel assigned to the Fire is 27.
Forest officials say a strong thunderstorm cell moved through the area Sunday. The storm left washed out roads making it difficult for firefighters to access the blaze. Steep terrain and heavy tree mortality is also a concern in the area. Crews are bracing for the possibility of continued scattered thunderstorms with erratic and gusty winds.
Road closures include Forest Road 3N29C at the intersection of 3N29, and for trailhead 19E12 off of Rock Creek at the 3N22Y Road intersection.
Burning since last month and also touched off by lightning, the Summit Complex Fire on the Summit Ranger District of the forest consists of three fires totaling 3,994 acres, which is a 203 acre increase since Monday.  The largest is the McCormick Fire at 3,803 acres, next is the Douglas Fire at 181 followed by the Willow Fire sitting at 10.
There remain 115 fire personnel monitoring the fire movement and controlling its spread.  Forest officials say the cooler temperatures, higher humidity and cloud cover contributed to decreased fire activity and minimal spread, which is good news as those conditions are expected to continue for the rest of the week. However, the forecast also shows more scattered thunderstorms with possible lightning but with heavy rain as well.
All road, campground and trail closures remain in place and can be found in an earlier story by clicking here.