Pet Bath House Owner Arrested On Felony Bench Warrant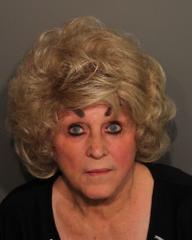 Vonna Hughes, AC Police Photo

View Photos
Angels Camp, CA — After apparently not showing up for her court date earlier today to address felony animal cruelty and other related charges, Vonna Hughes was picked up and booked into the Calaveras County Jail this afternoon.
According to Angels Camp Police Chief Todd Fordahl after the Pet Bath House co-owner failed to appear in court for arraignment a felony bench warrant was issued for her arrest. At approximately 3:30 this afternoon an officer from his department arrested her on the felony warrant.
As reported here, the incident is the latest relating to a bizarre case involving alleged mistreatment and sudden disappearance of three dogs who were under her care at her Angels Camp facility for only a few days before they went missing.
According to police, she informed their owner they were "put down" after endangering other animals and her while at the facility. However a previous kennel that had housed the animals for several months reported doing so without incident. Recently, two of the dogs were discovered and returned to the owner while the remains of the third, after being located, were examined by experts who could not determine an exact cause of death.