Update: Quail Fire Now 80 Percent Contained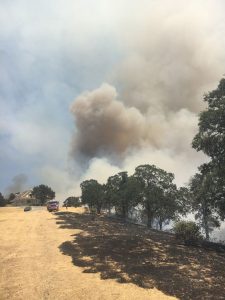 Quail Fire burning in Valley Springs
Update at 1:18 p.m.: CAL Fire is reporting this afternoon that control over the Quail Fire has incrementally increased to 80 percent containment.
Original: 7:17 a.m.: Valley Springs, CA — The Quail Fire near Valley Springs is estimated to be 59 acres and 75-percent contained.
It ignited at 1:10 p.m. on Wednesday along Oak Hill Drive near Quail Oaks Road. All earlier evacuation orders have been lifted. At one point, 35 residents were advised to leave their homes. We reported yesterday that investigators learned that the fire was caused by someone using a push-behind lawnmower. A citation was given to the person responsible for not having proper equipment, such as a shovel, within 25 feet and for allowing the fire to escape.
CAL Fire reports that fire equipment will remain staged in the area today, so residents returning are asked not to impede the ongoing firefighting operations.