Father's Day Weekend Events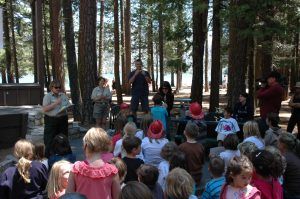 Fish Faire Summit Ranger District

View Photos
Expect a hot Father's Day weekend with several events planned outside. Details on this weekend's weather and dangerous river conditions have been posted here.
The Pinecrest Fish Faire is tomorrow, June 17, in the Day Use Area. Young fishers can learn how to cast, try their hand at fishing-related games, with visits by Smokey Bear and Woodsy Owl, and learn about the Forest, the environment and fish. Registration begins at 7:30 am guests will enjoy a picnic lunch, the full schedule of events is posted in our events calendar here. The free event is sponsored by the Stanislaus National Forest, Pinecrest Lake Resort, California Department of Fish and Game, Kiwanis Club of Sonora and the Stanislaus National Forest Employees Association.
Columbia Father's Day Fly-In will host plane demonstrations, static displays, plane/car races, and more. Benny Stuth, Tuolumne County Airport Manager, was today's KVML "Newsmaker of the Day" as detailed here.
The 3rd Annual Torch Run will feature Law Enforcement (CHP & Sonora Police Dept.) who will escourt the Torch (Flame of Hope) from the Red Church to the Fairgrounds. Since 1968, the flame has been a symbol of respect and inclusion — carried with pride by Special Olympics athletes, law enforcement and supporters alike. After the run there will be games and a picnic lunch at the Mother Lode Fairgrounds, the event listing is here.
Saturday morning in Copperopolis the 5th annual VFW Hot Rods and Harleys Poker Run will host their fund raising event for the James D. Piper VFW Post 12118 "Support the Troops care packages" program. More details are here. Plus any vehicle can participate in the Jamestown Poker Run/Rerun Scavenger Hunt sponsored by Sgt. Bobby Rapp Memorial Scholarship,Inc. details are here.
Pine Mountain Lake Stables is hosting "Kids Day At The Stables" this Saturday. Details about the activities offered for free and the location are in their event listing here.
California State Poet Laureate Dana Gioia will make his Calaveras County appearance as part of his 58-county tour at the Angels Camp Museum Carriage House. Details are here.
Stage3 will perform "Educating Rita" by Willy Russell at Columbia College in the Dogwood Building, evening and matinee shows will be performed this weekend. Sierra Repertory Theatre will perform "Joseph And The Amazing Technicolor Dreamcoat" at the Fallon House in Columbia.
All the details on the local farmer's markets are here.
Railtown 1897 is bringing out the famous "Movie Star Locomotive" Sierra No. 3™ for excursion train rides on Father's Day, this Sunday. Details on other Father's Day activities at Railtown are here.