Severity Of Rockslide Keeps HWY140 Yosemite Entrance Closed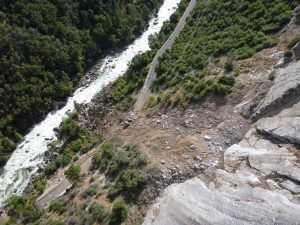 Yosemite rockslide El Portal Road

View Photos
Yosemite, CA — Yosemite National Park officials update that Monday's rockslide left thousands of tons of boulders and debris on El Portal Road forcing the closure of the Highway 140 gate and a stretch of the roadway   through this weekend.
Road crews are currently assessing the road's condition to formulate the best plan of action to begin clearing the debris.  As reported here, the rocks came crashing down onto the roadway around noon on Monday with no injuries or vehicles damaged in the slide. At that time Park officials estimated the closure would be at least 24 hours. However, due to the severity of the damage, which stretches about a 1,000 feet, they have extended the shutdown through the weekend with no estimated reopening date being given.
Park spokesperson Scott Gediman reports, "One of our geologist flew over the scene in a helicopter and determined that nearly 4,000 tons of rock broke off from the "Parkline Slab" cliff and fell about 600 feet to the roadway below with the biggest boulder is about 130 tons." He also assessed that the massive slab that detached was approximately 50 x 80 x 15 feet and slid down the cliff, hit a ledge, and broke into many pieces. Roughly a third of the debris piled up on the roadway, with a diameter of about 150 feet and height of around 15-20 feet. Gediman adds, "From what we could tell it caused some road damage, from underneath the rocks and the debris we can see some literally holes in the pavement. They need to remove some of the rocks and debris to see the amount of road work that needs to be done."
The road crew is formulating a plan of action and work could begin in the next couple of days, according to Gediman, who does not rule out that explosives may have to be used to clear the boulders. All other entrances to the park are open. Additionally, the YARTS buses will run on a modified schedule, to view it click here.