Armed And Dangerous Wanted Man Caught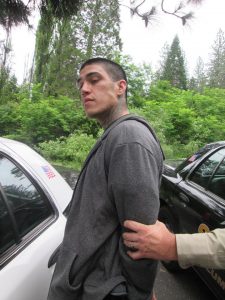 Richard Meza arrest

View Photos
Twain Harte, CA – Tuolumne County Sheriff's Deputies took wanted suspect, 24-year-old Richard Meza, into custody and then also arrested his mom after being tipped off as to their whereabouts.
It took a little over 24 hours for the information on social media and myMotherLode.com to lead to a tip regarding an apartment on Marquis Drive in Twain Harte where deputies found Meza with his mother, 55-year-old Julieta Beasley, Friday around 11 a.m. Discovered inside the residence was also a bunch of Suboxone strips, used in the treatment of opioid addiction, which investigators believe Meza was selling.
As reported here Thursday, Sheriff's officials had called for the public's help to catch Meza, whom they referred to as "armed and dangerous," after he jumped out of the back passenger seat of a car during a traffic stop in Sonora early Wednesday morning on Angeline Court.
Beasley faces accessory charges for knowingly harboring her son. Meza was already facing drug charges from a May arrest where deputies found 25.9 grams of heroin and .45 grams of methamphetamine at his South Green home in Sonora and for cutting off his ankle monitor, a violation of his "own recognizance" release. Possession of Suboxone strips for sale has now been tacked on to his charges.