Wanted Man Considered Armed And Dangerous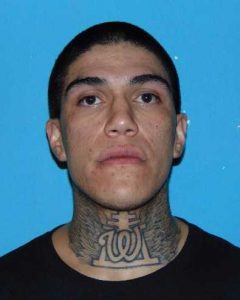 Richard Meza

View Photos
Sonora, CA — The Tuolumne County Sheriff's Department is asking for the public's help to find an "armed and dangerous" suspect that jumped out of the vehicle he was riding in after it was pulled over in Sonora.
A deputy conducted a traffic stop on a Chevrolet Impala for a broken tail light with four people inside just after 2 a.m. Wednesday on Angeline Court. The driver did not pull over right away but when he did  just a bit down the road that is when the wanted man, 24-year-old Richard Meza, jumped out of the back seat and ran into a wooded area. A search ensued but Meza could not be located.
As reported here in May, Meza was arrested after a raid on his South Green Street residence in Sonora which turned up 25.9 grams of heroin and .45 grams of methamphetamine. The court had released him from jail on his own recognizance with an ankle monitor but he had removed the electronic tracking device in violating his probation.
The driver of the vehicle, 19-year-old Christopher Miller of Jamestown, was taken into custody for driving without a license and possession of methamphetamine, as just over a gram of the drug was found on him.
Sherriff's officials report that Meza goes by the nickname "Zombie." He is considered armed and dangerous. Anyone with information regarding his whereabouts is asked to call the Sheriff's Office at 209-533-5815 and the call can remain anonymous.