Surveillance Video Could Be Key In Crash Involving A TCSD Officer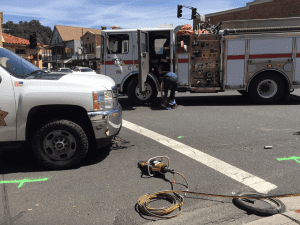 Accident Reconstruction, Pickup vs Bike, Downtown Sonora, June 5, 2017

View Photos
Sonora, CA – Acting Sonora Police Chief Turu VanderWiel gave Clarke Broadcasting an update on the investigation into a crash that involved a Tuolumne County Sheriff's Community Service Officer and a 10-year-old boy.
SPD has identified the driver of the sheriff's vehicle as 51-year-old Dave Archibald. As reported here on Monday, the accident happened at 11 a.m. at the Stockton Road and South Washington Street intersection.  It is unclear exactly what happened but the boy was struck by the sheriff's vehicle while crossing the roadway in the crosswalk. Acting Chief VanderWiel updates the investigation, stating, "We still have interviews to conduct and some statements to go over as well as some evidence, both that we have collected from the scene and we have requested from a nearby business for video surveillance."
Noting that some of the witnesses' stories are conflicting, the Chief hopes the video will show exactly what happened, adding, "We have to request it through proper channels and were told its several days before we can get it back to review it. The video is not actually accessible or held on site there and we have to comb through that and try to figure out if we can determine where the actual facts fall in there."
Regarding the whereabouts of the boy's parents, Chief VanderWiel notes that the mother was on the scene moments after the accident where the child suffered a foot injury.