Names And Details Released On HWY108/120 Big Rig Crash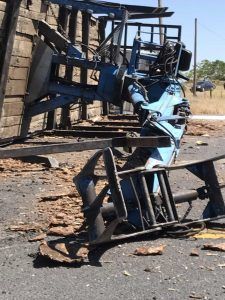 Highway 108 and J-59 intersection Big Rig crash

View Photos
Keystone, CA – The CHP has identified the driver of the Big Rig that wrecked on Highway 108/120 and caused delays throughout the evening commute Tuesday.
The crash happened just after 1:30 p.m. on the highway at the J-59/La Grange Road intersection in Tuolumne County. The CHP reports that 24- year-old Keith Hoisington from Sacramento was behind the wheel of a 1987 Peterbuilt logging truck westbound on the highway. As he approached the intersection he started to turn left onto J-59 but because of his unsafe speed the semi overturned. Logs were spilled across the roadway and the semi was on its side blocking the eastbound lane of the highway.
Hoisington was uninjured. As reported here Tuesday, traffic was down to one-way traffic control heading westbound on the highway and eastbound and J-59 traffic was diverted along Green Springs Road for several hours as the logs were removed, the semi and trailer were uprighted and the debris was cleared from the roadway.