CAO Addresses Issues Facing Storm Damaged Roads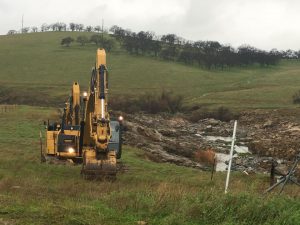 Equipment ready to remove portions of Bonds Flat Road

View Photos
Sonora, CA — Ongoing closures of damaged major rural routes continue to cause significant concerns in the aftermath of the winter's disastrous storms.
Today, Tuolumne County Administrative Officer Craig Pedro shares with Clarke Broadcasting that county engineering staff is tasked with providing a show-and-tell pictorial presentation at next Tuesday's board of supervisors meeting. The goal is to literally give the supervisors and public a clearer picture of engineering and road crew challenges while addressing efforts towards getting the more challenging roads repaired.
Pedro reports that the Turlock Irrigation District (TID), which removed part of Bonds Flat Road back in February, as reported here, in order to open the Don Pedro reservoir spillway, has taken the lead in restoring that section. "They are as motivated as we are to get that open for everyone who relies upon it, which includes [TID] for their operation of the reservoir," he states. At last check with TID, he indicates estimated repair costs were thought to run in the $300,000 range. Qualifying that number, he adds, "I would not hold them to that but it is their responsibility to get that road repaired — and they are trying to do that as quickly as they can."
An Emergency Response Workaround
Aside from recreational and commuting traffic, Pedro admits that emergency response time is a concern with the Bonds Flat Road closure. To address that, the county has coordinated with CAL Fire to ensure that the Blanchard Fire Station on Highway 132 in La Grange is fully staffed and backfilled.
Currently, Pedro says that county officials and other stakeholder agencies, in tandem with U.S Senators Dianne Feinstein and Kamala Harris, are pondering possibility of seeking funding through President Donald Trump's proposed infrastructure program to potentially pay for a bridge.
TID has floated the figure of $5 million as an estimated cost for a structure that would be able to successfully withstand in the event of flooding such as back in 1997, which required TID to open all three spillway gates, causing even more significant roadway damage. The spillway opening back in February required one gate to open halfway.
Focus On Other Rural Routes
Pedro evokes a few of the other roads that are chief among the county's concerns. "There is Italian Bar…Marshes Flat, an important backdoor to the Don Pedro subdivision, a steep road on a hillside that requires engineering. Italian Bar Road is in similar category, with significant damage where significant repairs are needed. For every one we will use federal and state funding available under the disaster declarations." While planning and work are underway Pedro makes this request: "I just need to beg peoples' patience, as a pretty much overwhelmed roads and maintenance staff take care of those things on top of already being stretched thin. It is going to take time but we are very proud of the work the engineering and road maintenance crews are doing to get the roads all back in shape as quickly as possible.
He also stresses that motorists need to be very cautious and respectful of all the road closures across the county. "Any of the roads we have closed with barricades and signs that say 'Road Closed' there is a reason for it." Recently, he shares that a motorcyclist who cut past a barricaded forest road was seriously hurt, stressing, "We cannot emphasize this enough — to acknowledge those barriers and signs because they are there for peoples' safety. Some of these roads are just gone..it may not be apparent…until you are right on it."