Update: Don Pedro's Emergency Spillway Opens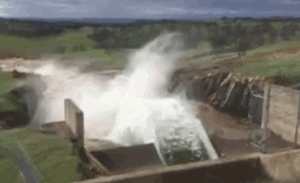 Emergency Spillway Opens At Don Pedro Reservoir

View Photos
Update at 3:30pm: The controlled spillway at Don Pedro Reservoir opened at three o'clock this afternoon.
At a joint press conference between the Turlock Irrigation District and the Stanislaus County Sheriff's Department, Incident Commander Jason Hicks stated that flows in the Tuolumne River will be between 18,000 to 30,000 cubic ft. per second. It is anticipated to be less intense than in 1997 when flows reached 60,000 cubic ft. per second. While no homes or structures are considered in danger in Tuolumne County, there are concerns about flooding in Modesto. The Stanislaus County Sheriff's Office sent out evacuation advisories to around 900 homes. At the press conference, Sheriff Adam Christianson noted that it is only advisory at this point, and not mandatory. Officials have also been going around the Tuolumne River in Stanislaus County to advise any homeless residents about the situation. It is estimated that the heavy flows will reach Modesto in about 23 hours. IC Hicks noted that the emergency spillway is anticipated to remain open for at least four days.
Portions of Bonds Flat Road in Tuolumne County, between J-59 and Highway 132, were removed in anticipation of opening the spillway. That stretch will remain closed until sometime this summer when repairs can be made.
Update at 11:45am: Don Pedro reservoir's controlled spillway will open at 3pm today.
The decision was made late this morning by the Turlock Irrigation District (TID) as the reservoir is nearing its capacity of 830 ft. It marks the second time in the dam's history that the controlled spillway will be utilized, and the only other occasion was in 1997.
Ethan Billigmeier, spokesperson for the Tuolumne County Office of Emergency Services, says, "Deconstruction on Bonds Flat Road has begun, and TID power customers will be de-energized in the low lying areas below the dam."
There are no homes or structured threatened in Tuolumne County due to the opening of the spillway, according to Billigmeier, but there are concerns that it could result in flooding along areas of the Tuolumne River in the Central Valley, notably near Modesto.
A temporary flight restriction has been issued near the dam from 3pm today until 3pm tomorrow in order to keep unwanted drones and other aircraft out of the area. It will also allow emergency officials the ability to fly overhead to conduct any monitoring that is required.
Bonds Flat Road will need to be reconstructed over the summer months. In the meantime, detours have been set up around the area.
We'll pass along more information as it becomes available.
Update at 8:10am: As part of the plan to use the controlled spillway at Don Pedro Reservoir, a portion of Bonds Flat Road within the spillway channel itself might be removed to avoid the release of roadway material into the Tuolumne River, according to Tuolumne County Administrator Craig Pedro.  A decision is expected by later this morning.
Bonds Flat Road is currently closed between J-59 and Highway 132. As of this morning, the Don Pedro Recreation Agency has closed the launch ramps at the reservoir, and there will be no recreational boating on the lake until further notice. Boats currently docked on the lake may remain in place.
The Turlock Irrigation District says that the controlled spillway may be used after 3pm today as Don Pedro approaches its 830 ft. capacity. We'll pass along further information as it becomes available.
For whatever period Bonds Flat Road is closed, all traffic that would normally use the road will need to plan on using alternate routes. The only major alternate routes available will be Highway 49 to Highway 132 or La Grange Road (J-59) to Highway 132. Travelers are reminded that: I) repairs to the James E. Roberts Bridge on Highway 120 will continue to require periodic nighttime closures; and 2) Marshes Flat Road from Highway 49 to the top of Kelly Grade has been closed indefinitely due to storm damage.
Original story posted at 6:55am: Don Pedro, CA — In anticipation of Don Pedro Reservoir reaching capacity, the Turlock Irrigation District is preparing to open the controlled spillway gates as early as 3pm today.
This is an update to an earlier story. The irrigation district stresses that it will not occur before 3pm. Landowners and growers along the Tuolumne River are advised to take steps to protect property and livestock as Tuolumne River levels are expected to rise rapidly. The Turlock Irrigation District reports that the CHP has closed a stretch of Bonds Flat Road between J-59 and Highway 132 so that concrete barriers could be placed on the road near the proximity of the Don Pedro Reservoir spillway channel. The irrigation district has been monitoring today's forecast, which has been increasingly volatile. The reservoir could approach its maximum capacity, of 830 ft., by late today. We'll pass along more information as it becomes available. To read more about the current weather conditions, click here.