Melones Now Four-fifths Full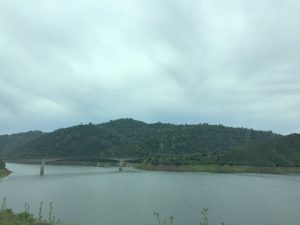 New Melones, April 16, 2017.

View Photos
Sonora, CA – Even in the current gloomier weather, those traveling the Highway 49 Stevenot or Parrotts Ferry bridges may get a lift looking at New Melones' elevated lake levels.
As of today, New Melones stands roughly four-fifths full at 80 percent of its 2,400,000 acre-feet (AF) total capacity.
Interestingly enough, the reservoir's current level (1,909,550 AF) – at 127 percent of its historical average for this time of year – places it first among the state's dozen major reservoirs, with regard to current status versus historical seasonal levels.
It is the first time in recent memory that Melones' storage measurements came in at the top of any positive water data charts. In fact, as reported here, it has infamously maintained a reputation for being among the state's most depleted among major reservoirs.
Ironic March 1 Data Convergence 
Melones has gained over 300,000 AF since March 1 when it measured roughly 1,600,000 AF.
It is both impressing and perhaps even a bit more ironic that, when you look at a storage level chart mapping its levels through the water-years of our most recent drought (click on image box slideshow to view photos and water level infographics), New Melones sat at roughly the same level back on March 1 during the 2012-13 water-year.
At the time the reservoir was just weeks away from the beginning of a descent below historic seasonal averages that continued to plunge; reaching a depth of near dead pool levels of 200,000-plus AF by the beginning of the 2015-2016 water-year.
Sudden, Steep Ascent Back To 'Normal'
Fueled by an extraordinarily wet winter that kicked in this past January, Melones' lake levels have made a sudden and dramatic climb to where they finally achieved 100 percent of their seasonal average for the first time since late April in that 2012-13 water-year.
To date, New Melones has filled to capacity only once and that was during 1982-83, the state's wettest water-year on record, marked not only by steady winter precipitation but also a stretch of summer rains. According to historians, the reservoir only once reached — but still did not exceed the lip of its emergency spillway — which, like Lake Oroville's is an earthen one.
While the region is now literally within inches of breaking the wettest on record year, as reported here — and it is only April, due to increased demands on water supplies even if historic rains continue, the reservoir is unlikely to completely fill.