Overspill At Oroville But Still Low At New Melones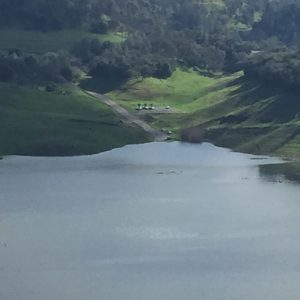 New Melones Reservoir boat launch detail, taken Feb. 12, 2017.

View Photos
Sonora, CA – The disastrous flooding at Lake Oroville dam is evoking comparisons between current conditions there and the sharply contrasting ones at New Melones.
Tri-Dam Project partners the Oakdale (OID) and South San Joaquin (SSJID) irrigation districts, owners of Beardsley, Donnells and Tulloch lakes, which operate those facilities under a flow agreement through New Melones Dam under the water management auspices of the Bureau of Reclamation, this week are illuminating differences as well as what they see as a distinct positive in the relatively less turbulent but still distressing circumstances involving the water system stakeholders of the Stanislaus River.
Certainly, after five years of drought — combined with government-mandated water releases for fish flows — there is still much more than ample inflow room in New Melones, which continues to come in at the bottom of the state's lowest-level major reservoirs. Its levels, now at 93 percent of average for this time of year, are just 56 percent of its total 2.4 million AF storage capacity. District officials note that it began the winter with about 500,000 acre-feet (AF) of water. It currently measures at about 1.3 million AF. To view a video taken Sunday click here.
Maybe 75 Percent Full By Spring?
Even with one of the wettest winters on record, Tri-Dam estimates New Melones might peak at about 1.8 million AF later this spring, which would allow it to hit the mark of roughly three-quarters full. Last week's inflow was measured at about 40,000 cubic feet (cf) per second. By yesterday inflow was coming in at 10,000 cfs, of which just about 200 cfs was scheduled for release.
For the record, only once since it opened in 1978 has New Melones filled, according to Tri-Dam — and that was back in the record-setting wet winter of 1983. However, at that time, it was already packing 1.3 million AF of water before any runoff arrived. According to OID General Manager Steve Knell it is possible that New Melones might end up somewhat closer to that point by this fall.
"Due to demands on Melones based off the annual watershed yield — what it produces — and demands downstream, average winters do not help Melones at all anymore," Knell maintains. Huge precipitation water-years in between the dry ones might bring short-term fixes, he admits. "But over time, Melones gets worse and worse — because the demands are greater than the inflow over the long-term."
Haunted By Growing Demands, Creeping Losses
Continuing, Knell points out, "While this is a good year…systemic problems with reservoir operations will creep back…and we will be dealing with a reservoir that is on the decline and not being managed sustainably because of the fish…and flow requirements." He adds that if the state is able to do what it presently wants conditions are likely to worsen.
As reported here, state regulators are proposing to greatly increase spring fish flows down the Stanislaus River by diverting even more water from New Melones. The plan is currently under hot contest by Tri-Dam and other stakeholders; especially now as it would eat away at this winter's hard-won storage gains. An 11-year study that focused on fall pulse flows, covered here, recently emphasized that fish species are doing well with water releases using less than half the previously prescribed amount. Public comments are still being accepted by the water board through March 17.
Listed as Northern California's fourth-largest reservoir, New Melones has, according to Knell, a much smaller by proportion watershed feeding it by design. The now brimming Don Pedro Reservoir, while about 20 percent smaller, drains a watershed that is 60 percent larger, which is why much more water is being released into the Tuolumne River. Don Pedro, now at 141 percent of its historic average, is sitting at 98 percent of its total capacity. As more precipitation melting conditions eke away at the Sierra snowpack, several reservoirs close to capacity will be conducting more spilling. Melones' own emergency spillway, like Oroville's is also earthen, providing Tri-Dam and other water managers with a take-away, as Knell confides, that such essential infrastructure begs essential improvements.
Lessons Learned, Moving Forward
Expressing deep sympathy for the thousands of people who were temporarily displaced by the infrastructure failure at Oroville — the state's second largest reservoir and keystone to the California Water Project that now sits at 96 percent of its 3.5-plus million AF capacity — Tri-Dam officials say the situation serves as a vivid reminder of water's enormous power as well as the importance of responsibly managing it. Knell evokes the massive collapse at Idaho's Teton Dam as a somber example. Its failure 40 years ago, as it was initially being filled to capacity, sent 300,000 AF of water down the Snake River that demolished thousands of homes and businesses and took over a dozen lives. It also literally wiped a few small towns off the map and wreaked $1 billion in damage.
"I think Melones has a lot of protection to it, as far as uncontrolled spills. Oroville…requires a higher level of management to never use that emergency spillway," Knell states. "For this year and winter, that capacity [at Oroville] was really reached, which really threw a wrench in their operations plans. It allowed the reservoir to fill up because they could not dump out as much water — and because the emergency spillway has never been fully developed, it still has its problems, which they are now working hard to correct."
In sharp contrast, New Melones, not only by design but because of what Tri-Dam officials term as disproportionately unfair water demands on it, Knell says not even during the state's wettest winter in 35 years will New Melones come close to filling.