Sonora Council To Hear About TCEDA Proposed Budget Increase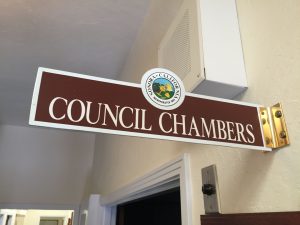 Sonora City Council Chambers

View Photos
Sonora, CA — The proposed new budget for the Tuolumne County Economic Development Authority will be among the items discussed at tonight's Sonora City Council meeting.
As reported previously, the TCEDA will no longer be overseeing the Central Sierra Economic Development District, which will in turn require additional revenue from the City of Sonora and Tuolumne County. The TCEDA is a joint powers authority between those two government entities. The authority is proposing the city spend an additional $15,000 next budget year, and city administrator Tim Miller has noted in the meeting documents that he feels that the new spending level is "not sustainable," and is recommending that the city maintain the current spending of just over $87,000.
The county is projected to spend just over $344,000 next budget year, an increase of around $71,000. We reporter earlier this month that the supervisors endorsed the increased budget, citing that they feel it is a good investment.
The matter will be discussed at tonight's meeting that gets underway at 5pm at City Hall.
Other items on the agenda include supporting an Urban Green Grant in conjunction with the Tuolumne County Transportation Council to improve Stockton Road, and establishing a working group to review local marijuana rules following the passage of Proposition 64.