CHP Details Fatal Highway 108 Crash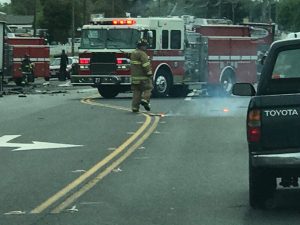 Fatal crash on Highway 108 in Oakdale area

View Photos
Oakdale, CA — The CHP has released new information about a fatal crash that occurred late Friday afternoon east of Oakdale.
47-year-old Christine M. Busser of Modesto was traveling westbound on Highway 108 in a Ford Mustang. She came to a stop in the westbound turn lane at South Sterns Road and was hit from behind by a Chevy pickup truck driven by 19-year-old Eric W. Mildenberger of Modesto. The impact of the crash pushed Busser's vehicle into the path of an oncoming big rig truck driven by 34-year-old Christoper James Brazil of Escalon. Busser was pronounced dead at the scene by arriving law enforcement personnel. The CHP reports that the investigation into the crash is still ongoing, and Mildenberger's cell phone has been seized as evidence, as well as both the Chevy truck and Ford Mustang.
The crash blocked Highway 108 for a period of time late Friday afternoon and early evening.