Urgency Extension On Calaveras Cannabis Regulations 'A Coin Toss'?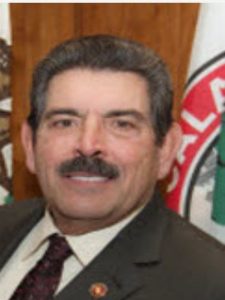 Michael Oliveira

View Photos
San Andreas, CA — A buzz within its own government offices and through the community is building in Calaveras County over whether its supervisors will extend the local urgency ordinance on medical marijuana grows — or simply allow it to expire Feb. 14.
A special session earlier this week on the topic, as reported here, turned into an hours long marathon of public and board input. The takeaway is that, even with a citizens' commercial cannabis ban initiative on the May 2 ballot, at least three board members telegraphed strong enough leanings towards ban efforts to ponder letting the temporary regulations end, despite many departmental heads' support towards extending them in order to preserve current, more certain enforcement means and funding.
Addressing that fact during an exclusive interview with Clarke Broadcasting, Board Chair and District 3 Supervisor Michael Oliveira — who last year cast the only opposing vote to enacting the urgency ordinance — says that the broad staff perspective speaks volumes. At this point, District 2 Supervisor Jack Garamendi, whose district is estimated to contain about 70 percent of the county's 700-plus registered grows, maintains a similar position.
However, as an extension requires a four-fifths majority to pass, Oliveira currently characterizes the board vote outcome as being akin to a coin toss. While personally a non-promoter of commercial marijuana in the county, the board chair, a retired lawman, says he is keeping an open mind and emphasizing public safety as his primary objective.
'A Very Precarious Situation' 
"I know first hand that if we affect the revenue stream that we have right now, the funding we have for law enforcement in dealing with this issue, and the other issues in the county, we are going to be in a very precarious condition when it comes to the safety of this county," Oliveira somberly acknowledges.
"We know that these [enforcement, grow-related] issues are not going to cease," Oliveira continues. The potential seems also rife for other county concerns, including a litany of legal ones. He admits the county counsel is busily researching ways to cover all these bases. Matter-of-factly he affirms, "Due to the involvement of this industry, I am sure that people are going to look at every legal aspect to see what is going to be beneficial for them, should we decide to ban it, should we decide to extend the urgency ordinance, or put a permanent ordinance in — and we are very aware of that."
As Sheriff Rick DiBasilio recently shared here, enforcement officials see the passage of Prop 64 last fall adding more layers to already deep enforcement challenges. Oliveira characterizes the situation as a very involved one. "A lot of things are happening behind the scenes — the public really has not had the opportunity to see what this all costs — and what it takes to get it done," he states.
Oliveira also points to issues with how the voter ban initiative is written and impacts it stands to have on established legal businesses, especially as counsel advises that some of the language is contradictory to actual state statutes. Come April when ballot materials arrive in voters' mailboxes he comments, "I hope that the public would take the time to really read what the initiative states and what it really means, because it is going to affect the county for years to come."