Will Calaveras Turn 'A New Leaf' On Commercial Pot Grows?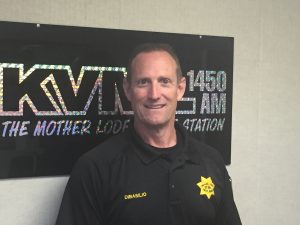 Sheriff Rick DiBasilio

View Photos
San Andreas, CA — So how does the new year look for "Calaveras Cannabis Country" as a newly seated board of supervisors revisits local regulations and considers new state laws on the books?
Too, County Clerk and Registrar of Voters Rebecca Turner on Tuesday certified that the petition filed by proponents of a citizen-led initiative to ban commercial marijuana cultivation and activities included sufficient valid signatures to qualify it for a special election. So it is possible that the new board will consider either adopting that initiative outright — possibly as soon as at its Jan. 24 meeting. It may also approve it for a special election ballot. Or take no action on it, in which case Turner would then schedule it for voters to decide on the spring ballot.
The supervisors are also girding to grapple with the county's unwieldy urgency medical cannabis regulation ordinance passed by last year's board, which clearly had no idea that the decision would unleash an incoming flood of over 800 commercial grow applications. Clarke Broadcasting caught up with Sheriff Rick DiBasilio to discuss current enforcement concerns.
Enforcement Issues In Every Direction
He says that these include the challenges of a still too-small sheriff's staff attempting to monitor growing activities that have moved indoors for the season — and the passage of the state's Prop 64, which allows citizens to privately grow up to six marijuana plants on one property for their own recreational use. It also allows those over 21 to legally carry up to an ounce and give it — although not sell it — to anyone of age.
Under the current urgency ordinance, any of the hundreds of still viable commercial medical marijuana grow registrants on the books who met the requirements of establishing their operation by May 10 of last year — and checked the boxes indicating the use of mixed lighting — are currently technically able to operate indoors.
"It is going to be taxing to my department — as people call to say 'these people are growing indoors' — to decide whether it is an illegal indoor commercial or a legal recreational [private] grow," Sheriff DiBasilio points out. Since at this point no commercial recreational growing is allowed in the county he anticipates that his staff will be making many "knock and talk" visits as it checks out complaints and educates residents on just exactly what is allowable under current laws.
Valentine's Day Fireworks?
As far as a ban or a regulation direction for commercial marijuana, the sheriff maintains that, with four new supervisors on board, he is unsure of which direction they will go. As previously reported here, last summer the previous board scheduled the matter of revisiting — and possibly renewing the urgency ordinance for the new slate of supervisors to address at the Feb. 14 board meeting.
"If they ban [commercial marijuana cultivation], that is what they do. If they continue the urgency ordinance, that is fine…but if they do not do either one or the other…I think that is going to gear up our county for a lot of problems," Sheriff DiBasilio confides. He adds, "I think you are going to see a lot of people moving in…for what could potentially be another grow season. I do not know what is going to happen realistically — but right now we are kind of in a holding pattern."
He laments that enacting a ban would likely take almost until the next marijuana harvest, which generally begins around the end of August or early September. Too, the sheriff states, "If they ban it, the question is are they going to have to give back any unspent funds from the marijuana registration fee program? The issue is not going to go away – we still have to enforce it."
Potential Significant 'Personal' Pot Stashes 
Personal grows of up to six plants might conservatively generate 18 pounds of marijuana, according to the sheriff, which bring "a whole new set of problems" for his department to deal with since the burden falls on law enforcement to prove if a person is selling it and not giving it away.
"If [the supervisors] extend the ordinance, I would say that financially it would benefit the Sheriff's Office because they would be able to collect the taxes from Measure C funds [approved by voter in this past election]," Sheriff DiBasilio notes.
Should the supervisors extend the urgency ordinance one more time while working to craft permanent regulations, the sheriff shares a few of his must-haves. "I need them to allow me to do background checks on anybody and everybody working on these sites and I have the language from the FBI and California Department of Justice to do that. I think we need to somehow limit the number of growers that we have in the county so that it is manageable because as we know 800 grows is not a manageable number," he says matter-of-factly.
A Regulatory 'Wish List'
"I think they need to re-look at the size of the property that they allow commercial growing on," he continues. "Two acres is too small. In the Butte Fire and other rural residential areas grows should not be allowed because it is where we are having all the problems. They are too remote. We have manufacturing, industrial and commercial areas where it can be maintained and controlled a lot better and it is safer for the growers, too — safer for residents."
Countering expressed privacy concerns of commercial marijuana growers who say they are just farmers the sheriff doubles down on the need for background checks as a matter of public safety. "They are imperative — to be able to know who is out there — it is just a no-brainer," he says, due to the crop's attraction to outlaws.
As he puts it, "Tomato farmers don't carry guns…and a tomato plant is not worth three, five or six thousand dollars either. [Marijuana growing] draws a definite criminal element despite the good actors because you can make a lot of money [potentially millions] in a short period of time."