Mokelumne Fire Acreage Grows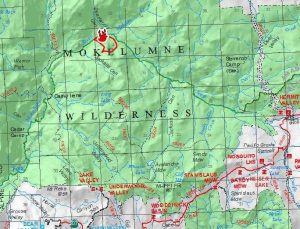 Fire Burning In Mokelumne River Canyon

View Photos
Mokelumne Wilderness, CA – The lightning strike Mokelumne Fire in the Stanislaus National Forest has increased in size and containment.
It is burning in a remote area of the Mokelumne River Canyon in steep, rough, rocky terrain with sparse vegetation, as first reported here, that has made it hard for fire suppression efforts and there is concern for firefighter's safety.  The flames were 147 at the beginning of the week and have grown at a slow to moderate rate of spread to152.   Resources have made progress, gaining two percent containment.  Forest fire officials report a helicopter, which is conducting bucket drops in nearby man made reservoirs outside the wilderness, has kept the flames from spreading on the western side of the fire. Additionally, an archeologist has been called in to assess at risk historical resources.
Firefighters are stationed in safe locations neat the fire to monitor its growth and activity and suppress it where possible. The fire was sparked last Thursday, August 18 just before midnight.