Mid-August Events In The Mother Lode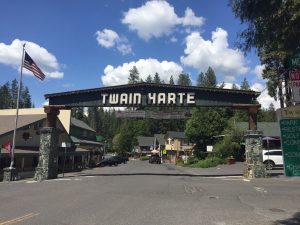 Twain Harte

View Photo
There are several events planned in the middle of August.
The Twain Harte Rotary is hosting the annual Deep Pit Bar-B-Que this Saturday, August 20th. First, there will be a craft fair from 8 am to 3 pm and then the gates to Eproson Field will open at 4 pm. Dinner will be served from 5 to 7. There will be raffle prizes and a silent auction. This will be followed by a concert in the ball field by the band Agent. For tickets call 209-206-1320
Boots and Belles is a summer gala fundraiser to support the therapy horses at Chester and Push Horse Rescue. The family-friendly event will provide horseback rides for kids, tours, pictures, a BBQ, games, a raffle and silent auction. Ticket details are in the event listing here.
The 23rd River Ranch Music Festival opens the gates to campers at 10 AM Friday and the music starts at 6 PM. The event is held twice a year at the River Ranch Campground in Tuolumne. Details are posted on Star 92.7 here.
The Aronos Clubhouse is celebrating 100 years this year and is in need of some repairs. Put on a poodle skirt and spats and enjoy a night of dancing with them to your favorite 50's and 60's music. Details are in our event listing here.
Support suicide prevention by attending "Golf for a Cause," a Lantern of Light fundraiser, at the Twain Harte Golf Course this Saturday morning. Details are here.
Join Doc Nancy Saturday night for a look at the dark skies of Calaveras Big Trees as she talks about stars, planets, constellations and mythology. Details are here.
The Groveland Rotary is putting on their annual Shrimp Fest Dinner and Fundraiser Night at the Pine Mountain Lake Stables on Saturday. Find out more in our event listing here.
The Angels-Murphys Rotary Charitable Foundation is hosting a Shrimp Feed at Murphys Park on Saturday. Find out more in our event listing here.
Performances of Shakespeare on the Vine theatre company's A Midsummer Night's Dream continue Thursday, Friday, and Saturday evenings at 7pm through August 20th. Sierra Repertory Theatre is performing Sh-Boom! a musical full of '60s hit songs at the East Sonora Theatre as detailed in our blog here. Our theatre information page is here.
The Groveland Farmers market is on Friday, the Peaceful Valley Farmers Market is in East Sonora on Friday, the Angels Camp's Market is on Friday, and Sonora's Farmers Market is on Saturday morning and the Groveland Hotel Provisions Patio will be full of crafters, makers, artists and more on Saturday from 11am to 4pm. Details about the Downtown Groveland Pop Up are here.
The Groveland / Big Oak Flat Annual Household Hazardous Waste & Paint Collection Event for residents is this Saturday, between 9:00 AM and 1:00 PM. Qualifying businesses who make an appointment are also welcome. The event will be held just off Highway 120, details are in the event calendar here.
Sunday the Farms of Tuolumne County (FOTC) are hosting a dinner celebration, as well as a fundraiser for the FOTC Ag Grant Program to assist local youth with agricultural projects. The guest speaker is Hardeep Singh, University of California Local Food Systems Advisor for Tuolumne, El Dorado, Amador and Calaveras Counties. Ticket details are in the event listing here.
Join Columbia State Park historians on a Columbia Ghost tour to find out where they lurk and the stories behind those who lived in Columbia during the Gold Rush.
Movie times are available in our Movie section which also has Pinecrest's Movies Under the Stars line up for the month here.
Dodge Ridge Mountain Bike Park will operate on weekends from 9 am-5 pm through the end of October depending on the weather as detailed here.