Sh-Boom! A Summer Fun Musical Romp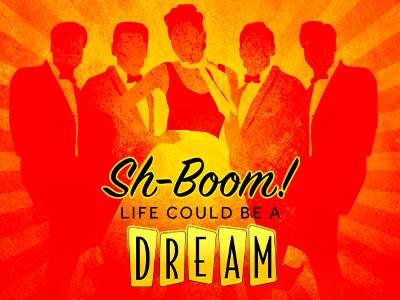 Nostalgic and entertaining, Sierra Repertory Theatre's latest offering is a musical revue that resurrects nearly a jukebox full of '50s and '60s doo wop hits and dance steps you never thought you knew.
Sh-Boom! Life Could Be A Dream, now playing through the end of the month, is another gem by Roger Bean, the creator of the nostalgic "rock and road" musical revue Route 66 that played a few years back at Fallon House Theatre.
You could say this sub-genre is Bean's bag, so to speak. The Marvelous Wonderettes, perhaps Bean's best-known concoction, won the 2007 LA Ovation Award for Best Musical following a record-breaking Los Angeles run (it continues to be an audience favorite in theatre companies throughout the country), spawning three sequels; Wonderettes: Caps & Gowns, Winter Wonderettes, Wonderettes: Dream On, and Wonderettes: Glee Club Edition.
Sh-Boom, first staged in the summer of 2009, also enjoyed a record-breaking (12-month) run in LA, in the process it garnered the Los Angeles Drama Critics Circle Award, the LA Weekly Theatre Award, and the Backstage Garland Award for Outstanding Musical.
The plot centers around three nerdy friends, unemployed radio fan and wanna-be doo wopper Denny, and his sidekicks Eugene and Wally. The trio spends hours goofing around in a kitschy basement rec room that Denny's peace-and-quiet-seeking mother is desperately trying to kick him out of so he can find a job — and she can get to her sewing machine.
When he hears of a "Dream of A Lifetime" doo-wop group talent search contest sponsored by his fave station, Big Bopper Radio, Denny is inspired to go for it and the three begin working in tandem, honing some pretty slick harmonies while working to unhobble Eugene and Wally's dance moves.
'Big Stuff' Fuels Big Dreams
Through Wally's connection, the owner of Big Stuff Auto sends over his daughter Lois and head mechanic, Duke, to check out trio, now dubbed Denny and the Dreamers, as they practice in the basement. Duke, who turns out to have the best lead voice of the four young men, winds up becoming a member and Lois, who has perhaps the best voice and moves of all, finds herself crushing on Duke and coaching the group.
Madcap mayhem ensues ahead of the contest along with a forbidden blossoming romance with happy endings all around. The two-hour show (sandwiched in between by a 15-minute intermission) is literally a romp that will make you want to Twist, try the Mashed Potato and Watusi, and definitely sing along to the hits; among them, "Get A Job, " "Fools Fall in Love," "Tears on my Pillow," "Runaround Sue," "Earth Angel," "Stay," "Unchained Melody," "Lonely Teardrops," and "The Glory of Love."
In her SRT debut, Deja Fields as Lois steals the spotlight with her acting, singing and dancing. Hailing from San Diego, her theatre credits are many and she's a recording artist in her own right, who has sung backup for Stevie Wonder. Troy D Wallace, who plays Duke, is also a solid pro with TV and film credits, endearing vocal chops and a soft tough guy presence. Both are Actors Equity Association members.
Kabir Gandhi, now in his last year of a degree in Musical Theatre at Indiana University, channels the smart-alecky, fired-up determination of Denny, well complemented by SoCal native Chris Carranza's awkward klutziness of nerdy four-eyed Eugene and NYC-based Derik Lawson's lovably luggish Wally. Besides being highly credible harmonizers, all are a hoot to watch dancing in tandem.
High kudos are in order for the show choreographer-director, LA-based actor Keenon Hooks. SRT fans who caught Shrek The Musical will remember him in his role as Donkey. The co-founder and dance director of Studio Performing Arts in Westlake Village, his next gig is resident artist for PCPA (Pacific Conservatory in Solvang) choreographing its fall production of Cinderella.
Sh-Boom! Life Could Be A Dream runs Wednesday through Sunday evenings with some matinees performances through August 28 at SRT's East Sonora Theatre (13891 Mono Way). For showtimes and tickets, go to sierrarep.org, other local theater information is in our theater section here.