Millions Of Votes Left To Count In State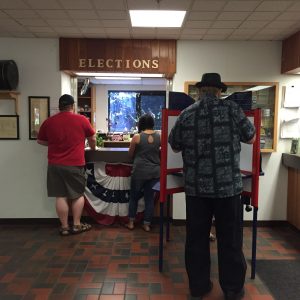 Tuolumne County voters

View Photos
Sacramento, CA — California election officials report although there are still several million votes left to be counted, it is unlikely to make a difference among most contests including the Democratic presidential race.
Nearly 2.6 million ballots have yet to be counted in California's presidential primary election, according to Secretary of State Alex Padilla. If all the ballots are certified, he concludes that will put the state's voter turnout at around 8.9 million, or 49 percent, which surpasses the 31 percent of registered voters who casts ballots in the 2012 presidential primary. However, this year's projected total is 9 percent less than the 58 percent turnout in 2008, as earlier reported here.
The survey released by Padilla's office showed that out of the unprocessed ballots at 58 county elections offices, Los Angeles County had the most remaining with nearly 616,000 outstanding votes to count.  In the state, over 6 million ballots have been tallied to date. The final count does not have to be certified by counties until early July. Padilla's office notes that the remaining ballots are unlikely to change the Democratic presidential race away from nominee Hillary Clinton to challenger Vermont Senator Bernie Sanders.
As previously reported, the race between incumbent Sonora Councilmember Bill Canning and former member Matt Hawkins has widened. Updated local election results can be found here.