Mother Lode Elections Update On Close Races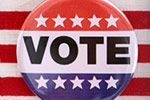 elections

View Photos
Sonora, CA — With Friday being the "Postmark Plus Three" day following Election Day Tuesday, Clarke Broadcasting provides the latest on the Mother Lode's close races.
With less than 1,000 ballots left to count, not counting how many might arrive with a June 7 postmark in Friday's mail that, under a new law, must be processed, Tuolumne County's elections official, Auditor-Controller Debi Bautista states that the races that were decided on Election Night, Tuesday remain as such. This includes the three county districts where the incumbents all won handily: Sherri Brennan for District 1; John Gray, District 4, and current Board Chair Karl Rodefer, District 5.
For two of the three open Sonora City Council seats, incumbent and Mayor Pro-Tem Connie Williams and newcomer Mark Plummer are still sitting pretty, anticipated to also be certified as winners in the final report. However, Bautista points out that the lead of former council member Matt Hawkins on incumbent Bill Canning has broadened from 38 to 60 votes for the remaining city council seat.
In Bautista's estimation she says, "Probably, of those 1,000-ish ballots out there, not even 20 percent is probably [from] the City of Sonora [voters]. So that race — still I would wait until we got every ballot counted — but that race is probably over, too."
Clarke Broadcasting reached out to both candidates for their latest thoughts. Hawkins states, "I do believe, based on the trends and how the votes that keep coming in, that I will win this race. It has been a great race to run." If certified the winner, he adds that he looks forward to serving with the council these next four years. His first order of business? "I plan on working on the issue of homelessness in Sonora and in Tuolumne County. I do plan on reaching out, not just to the people of Sonora, but to Tuolumne County law enforcement and anyone else interested who would be willing to help on this issue."
Canning, contacted Friday morning, was not available to comment.
In Calaveras County, elections officials will not have another official update until next Tuesday afternoon. The only race still undecided is between Board Chair and District 1 Supervisor Cliff Edson and former supervisor Gary Tofanelli. The difference between them, currently three votes, is expected to remain close enough for the two to face off on the November ballot. Calls to both candidates Friday morning for current thoughts on the matter were not returned.