Update: Containment Gained On Electra Fire, Evacuation Downgrade, Acreage Growth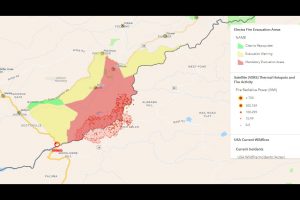 Amador County Evacuation Zones map 2:45 p.m. 7-6-2022

View Photos
Update at 6:15 p.m.: CAL Fire reports growth in acreage and containment along with some changes in evacuation orders in the Electra Fire. The blaze, which started on Monday along Electra Road near HIghway 49 in Amador County just outside of Jackson and near the Calaveras County line, has grown to 4,112 acres and is 40% contained, meaning a control line has been completed around the fire. It is also 17% controlled, with CAL Fire defining it as the "status of a wildfire suppression action signifying that there is no longer smoke activity or hotspots within the fire perimeter." Further details on updated evacuations and road closures can be viewed below.
Update at 3:05 p.m.: Some Electra Fire evacuation orders have been downgraded to warnings in Amador County, allowing residents in those areas back into their homes.
The fire is burning along Electra Road in Amador County just outside of Jackson near Highway 49 and near the Calaveras County line, has grown to 3,900 acres and is only 10% contained. CAL Fire is reporting that the Amador County Sheriff's Office is removing the road closure at the intersection of Lower Clinton Road and Butte Mountain Road. The new road closure will be moved to the Upper Clinton Road and Butte Mountain intersection. All residents along Clinton Road and Butte Mountain Road within this area are cleared to return home. The evacuation order for this area has been reduced to a warning.
CAL Fire released this Evacuation Warning and road closure update:
Amador County:
The warning zone running east from Jackson, along Hwy 88 to Previtali Road has been removed.
All existing Evacuation Orders and Warnings not listed above remain in effect
Road Closures:
Tabeaud Road southbound at Highway 88, Mount Zion Road southbound at Highway 88, Upper Clinton Road at Butte Mountain Road, Clinton Road at West Clinton Road, Electra Road at Highway 49
Calaveras County:
All evacuation orders, evacuation warnings, and road closures remain unchanged.
Update at 8am and below written by BJ Hansen: CAL Fire announces this morning that the Electra Fire remains 3,900 acres and the containment has grown to 10-percent. Firefighters worked through the evening to strengthen control lines. All of the earlier evacuation orders and advisories remain in place.
Original story posted at 5:50am: Amador County, CA — The Electra Fire, which started on Monday afternoon along Electra Road near Highway 49 outside of Jackson, is up to 3,900 acres and there is now five percent containment.
Air and ground resources continue to build lines to control the fire. Yesterday firefighters were challenged by short intense upslope runs, and short range spotting, contributing to the fire's spread. 1,217 structures are threatened. There have been no reports of any structures damaged.
Some additional evacuation areas were added yesterday in the area of Highway 88 in Amador County. Evacuation Orders remain in effect in the area of Highway 26 in Calaveras County near the fire. There are also evacuation warnings for Railroad Flat and West Point (Click on View Photos to see maps of the evac zones in the two-county region).
The Calaveras Evacuation Center is now located at the Mountain Oak School at 150 Old Oak Road in San Andreas. The Amador Evacuation Center is at the Italian Picnic Grounds. Over 1,300 firefighters are on the scene. A larger type three incident management team is taking over the operations this morning.
For day one details about the Electra Fire go here, day two is here. Containment was almost reached on July 16 as reported here.