Uncovered New Melones Body Remains A Mystery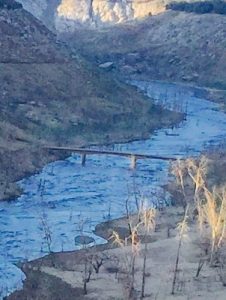 New Melones low water levels-8-19-15

View Photos
San Andreas, CA — The partial remains of a human body recovered from local waters remain shrouded in mystery more than three months after being spotted by local miners.
It was on Oct. 9, 2015 when the Calaveras County Sheriff's Department recovered the badly decomposed body from the mud underneath the old Parrotts Ferry bridge at New Melones Reservoir, after local reports that receding water levels uncovered what looked to be a corpse. As previously reported, initial findings by Coroner Kevin Raggio indicated suspicious death circumstances.
On Friday, the coroner reported that following a partial autopsy on Jan. 7, the gender was still undetermined and that DNA samples were taken and sent to the Dept. of Justice in Sacramento, where they will be checked against the state DNA data bank. The investigation remains active, according to Raggio, who was unable to comment further on the case.
Over the years, several bodies have been found at New Melones under circumstances ranging from tragic to downright dastardly. The most recent discovery back in the fall of 2014, as previously reported, involved the recovery of a man, who had been listed as missing since 1995, following a presumed accidental drowning. An extensive sweep of the reservoir back in March 2002 by the Sheriff's Offices in Calaveras and Tuolumne counties and FBI investigators turned up the bodies of five murder victims from southern California, who were tied to a Russian mafia kidnapping for ransom plot, as reported here.