Yosemite Concessioners Wrangling During Final Hours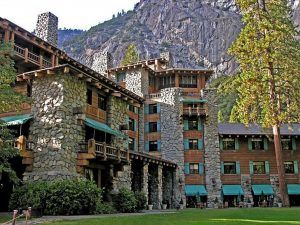 Ahwanhee Hotel...or Majestic Yosemite Hotel

View Photos
Yosemite, CA —  A highly-anticipated March 1 transition only hours away today is reportedly full of last-minute wrangling with the passing of the reins between Yosemite National Park's outgoing and incoming concessionaires.
"There is a lot of transition going on… a lot of folks from Aramark here…a lot of issues with the signs that folks are familiar with, but also this is a huge undertaking," explains Yosemite National Park spokesperson Scott Gediman. "They are coming in and changing out everything from computer systems…reservations systems…uniforms, to getting folks oriented, so operationally, this is a huge undertaking, but Aramark is doing a great job preparing for it — Delaware North has been very gracious about the transition, and we are just moving forward."
Visitors are scarfing up certain park souvenirs at half-price today, due to a multi-million-dollar trademark lawsuit (previously reported here) brought by departing concessioner Delaware North Companies, as it currently has legal control of the words "Yosemite National Park" for commercial uses, as well as the iconic names of several park attractions, which were recently renamed — and are still physically being re-signed at the park. Among these are Yosemite Lodge at the Falls; The Ahwahnee; Curry Village; Wawona Hotel; and Badger Pass Ski Area. Unless the concessioners otherwise arrange terms, these attractions will become respectively known as Yosemite Valley Lodge; The Majestic Yosemite Hotel; Half Dome Village; Big Trees Lodge; and Yosemite Ski & Snowboard Area. Delaware North, as reported here, maintains that it hopes that a "fair and just" agreement may be reached that would allow the use of the historic names to continue.
'Yosemite' No Matter What  
As far as sportswear and other gift shop sales, Gediman notes, "In the final hours of Delaware North's contract, 'Yosemite National Park' [branded merchandise] is being sold, and what will be sold tomorrow or how it will be sold is something that is being worked out by Aramark and Delaware North today."
For their part, Aramark spokesperson David Freireich shares, "Due to the outgoing concessioner's claim that it owns the trademark for 'Yosemite National Park', we are unable to sell certain items, including apparel, pens, mugs and stickers, branded with 'Yosemite National Park'. To avoid trademark infringement, we will be introducing a 'Yosemite' branded line of souvenirs."
In what she plans to be the last week of an email petition requesting intervention from the U.S. Congress over Delaware North's trademark lawsuit (reported here) Columbia College Professor Laurie Sylwester reports that, internationally, there have been 36,400 views of the petition, and 7,474 signatures from all 50 states and 48 countries around the world, to date.
Sylwester hopes that federal lawmakers, and ahead of them, Congressional staffers making note of all the comments provided with the signatures will send up a red flag for protective legislation. "I would really hope for action on federal law to keep from having [similar lawsuits] happen because other parks are in the same position, really," she states. Last week, in response to the ensuing issues from the Delaware North trademark lawsuit, the Tuolumne County Board of Supervisors approved sending a letter to the National Park Service and Delaware North Company, urging that the two sides find a solution. It was also last week that Mother Lode lawmaker Assemblymember Frank Bigelow helped introduce AB 2249, which aims to prevent concessionaires from claiming ownership of any names associated with state parks, as reported here.
Moving Forward As Smoothly As Possible
Any disputes aside, Freireich reports that his company remains extremely honored to have won the 15-year, estimated $2 billion Yosemite concessions contract and looks forward to working with the National Park Service "to deliver great experiences" for visitors as stewards of the iconic park that is special place for so many. As he states, "Our top priority is to ensure as smooth a transition as possible for guests and we have been working closely with the NPS to develop a comprehensive transition plan in advance of commencing operations March 1." Aramark, as Yosemite Hospitality LLC, will annually provide lodging, retail, recreational services, and food to over four million park visitors.
The new concessionaire has, since the new contract was announced last June, maintained that specific details of its plans for the park would be announced over the coming months, also sharing a goal "to elevate the guest and visitor experience by introducing new offerings, upgrading amenities and enhancing existing programs." However, still clearly dealing with the complexities of transitioning with Delaware North, which has held the concessions contract for the past 20 years, no specific details of Aramark's "move forward plans" have yet been publicly made available.
For now and over the short-term, as Gediman states, "Yosemite National Park never closes and it has to be a seamless transition from tonight to tomorrow. Aramark has hired a significant number of folks from Delaware North — I do not have the exact number — so I know that a lot of the folks who had worked for Delaware North will continue to work for Aramark." Above all, and even with some apparent wrangling in the final hours between the two concessionaires, Gediman says, "I do want visitors [to know] that, if someone has a reservation and they are coming tomorrow, the stores, restaurants, shops will all be open, and the seamless transition has been a huge priority for us — and we feel really good about Aramark taking the reins."
Aramark currently provides concessions for numerous public attractions through contracts with the National Parks Service and other entities. Among these are: Denali National Park & Preserve; Glacier Bay National Park & Preserve; Mesa Verde National Park; Olympic National Park; Glen Canyon National Recreation Area; Lake Mead National Recreation Area; Lake Tahoe Basin National Forest; Grand Canyon National Park; Olympic National Forest; Hearst Castle; The Field Museum; Pikes Peak; National Museum of the Marine Corps; US Mint; and Gettysburg National Military Park.