Update: Petition Denouncing Yosemite Name Changes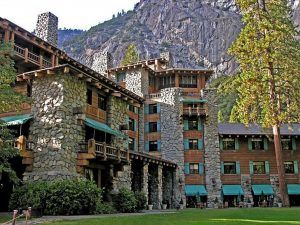 Ahwanhee Hotel...or Majestic Yosemite Hotel

View Photos
Sonora, CA — The online petition, which is related to Yosemite National Park renaming several iconic sites due to a trademark lawsuit with its current concessioner, has not only locals signing it, but people from around the world.
Since it was first put up at noon on Friday, the petition has collected 871 signatures as of Saturday at 7:45  a.m. and counting. As first reported by Clarke Broadcasting, the petition, authored by local Columbia College Art Professor Laurie Sylwester to the U.S. Congress calls for the release of those names to the citizens of the United States.  Slywester cries, "Outrage! We certainly aren't going to change the names.  I was outraged…I just jumped in there.  I thought I've never done a petition.  We need to have our voices heard."
Thursday, park officials announced the renaming of several iconic sites, like the Ahwahnne and Wawona hotels, to avoid potential trademark infringement issues with its soon to be departing concessions contractor, Delaware North, known as DNC Parks & Resorts at Yosemite, Inc. As previously reported, Park spokesperson Scott Gediman contends that DNC submitted and received the name trademarks without National Park Services approval.  Sylwester argues just because DNC used a 'backdoor process' to claim ownership of those names, doesn't make it right.  She is calling for a boycott of the concessioner, charging, "They [Delaware North] need to do the right thing and release those names.  It's absolutely absurd.  If people are outraged, they need to put financial pressure on Delaware North, write them letters.  When we make them feel the pain economically, they can release those names."
The petition notes that tax dollars support Yosemite National Park citing, "No corporation may own that great heritage."  Signatures have come as far away as Australia and Hawaii.  Sylwester adds, "I think we should be able to reach a million if people keep doing their due diligence and passing this petition on."
Click here to view the petition.