Yosemite Renames Historic Landmark Properties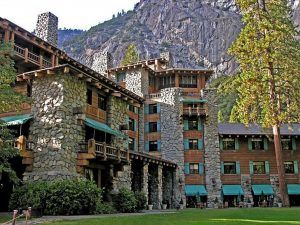 Ahwanhee Hotel...or Majestic Yosemite Hotel

View Photos
Yosemite, CA – Yosemite National Park officials state the name changes to several iconic buildings and landmarks, some that are even on the National Register of Historic Places, come in the wake of a new concessioner contract.
Park officials indicate that the renaming will avoid potential trademark infringement issues with the current concessioner, DNC Parks & Resorts at Yosemite, Inc. (DNCY), which is a subsidiary of the Delaware North Companies. Yosemite National Park Superintendent Don Neubacher, indicates, "While it is unfortunate that we must take this action, changing the names of these facilities will help us provide seamless service to the American public during the transition to the new concessioner. Yosemite National Park belongs to the American people."
Below are the Park's new names for the properties, chosen by park administrators:
●        Yosemite Lodge at the Falls to become: Yosemite Valley Lodge
●        The Ahwahnee to become: The Majestic Yosemite Hotel
●        Curry Village to become: Half Dome Village
●        Wawona Hotel to become: Big Trees Lodge
●        Badger Pass Ski Area to become:   Yosemite Ski & Snowboard Area
DNCY's park contract dates back to 1993, but that over 20-year relationship ended last year. As previously reported, the National Park Service signed a concessions contract in October of last year, to begin March 1, with Yosemite Hospitality, LLC, a subsidiary of Aramark. That prompted a legal battle with the Park and DNCY, which argues it owns the iconic names through trademarks, which the company estimates are worth over $50 million.  It is a claim the park denies, with officials contending that the trademarks, which even include the phrase, "Yosemite National Park," were done without the National Park Services approval.
Park spokesperson Scott Gediman indicates the cost will be in the millions, saying, "Not only will we have to change signs on hotels, but directional signs within the park, its things on websites, brochures; this is also going to  impact the Gateway Communities. So, there's a lot of things that remain to be determined." With regards to whether the names will be switched back if the park wins the legal battle, Gediman remarks that remains to be seen, stressing, "this unfortunate and is not something we wanted to do."