Major Crash And Construction Clash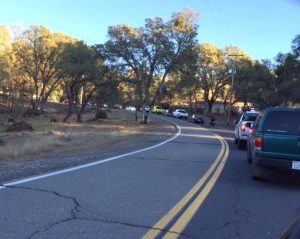 Back up due to Hwy 49 cement truck crash, Nov. 12, 2015

View Photos
Columbia, CA — Friday the 13th came early for both a Parrotts Ferry construction crew and motorists caught in a traffic jam after a cement truck accident in Calaveras County.
As first reported, just before 2 p.m. Thursday a concrete truck crashed on Highway 49, blocking all lanes of the highway. That forced the CHP to shut down the roadway with officers diverting traffic to Parrotts Ferry Road. However, that created another bottleneck for motorists in Columbia as Tuolumne County currently is in the midst of its Parrotts Ferry Reconstruction Project, which has flaggers conducting one-way traffic control causing 10 to 15 minutes delays.  "The diversion caught us off guard, "admits Duke York, Deputy Director of Tuolumne County Roads. He calls the crash an ironic twist, explaining, "That concrete truck was coming to our job. We needed that concrete. So, it was delaying work that we had on the project site." He adds with a laugh, "Kind of a perfect storm, Friday the 13th a day early."
The construction runs along Parrotts Ferry Road between Marble Quarry Road and Washington Street at the Fallon House Theatre. York explains that the work will not widen the road; instead, it will be "made thicker to standup to truck traffic better." The Tuolumne County Board of Supervisors approved the $799,393 project in October.  The work runs weekdays from 7 a.m. to 4 p.m. with a completion date of Nov. 25, weather permitting.