Snow Sports Participation Poll Results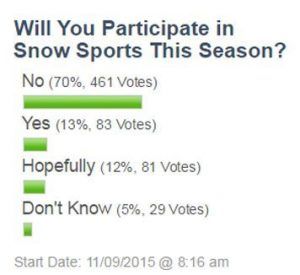 snow sports poll

View Photos
With the first snow of the season and an opening for Bear Valley Ski Resort planned for November myMotherLode asked "Will You Participate in Snow Sports This Season?" The results of the informal poll found 25% voting optimistically with 13% Yes and 12% "Hopefully" going to enjoy snow sports. An additional 5% hadn't made up their mind and 70% voted No.
The American College of Sports Medicine (ACSM) and the CDC classify downhill skiing—with light effort, ice skating at a leisurely pace (9 mph or less) and snowmobiling as moderate level physical activities. Downhill skiing—racing or with vigorous effort, fast pace or speedskating, cross-country skiing, sledding, ice hockey and shoveling heavy snow are vigorous physical activities expected to burn over seven kilocalories per minute.
This week's poll also brought to mind a March 2015 poll about another vigorous physical activity. The poll asked, "Could You Run, Without Stopping, For One Mile?" The poll recorded 717 votes with 55% No, 29% Yes, and 16% Maybe.
Another seasonal question was asked this week: When Do You Plan to Put Up A Christmas Tree? Only 1% already had a tree up, 4% plan to soon, 32% are waiting for after Thanksgiving. Another 10% are shooting for December 1st and the rest, 26% plan to put up a tree "Later in December."  In total 73% have plans for a tree and 27% voted "No tree for me."