Update: Butte Fire's Destructive Path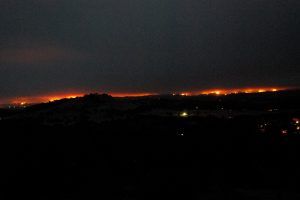 Butte fire looking towards Mountain Ranch & San Andreas from Pool Station Road

View Photos
Update at 9 pm:  The Butte Fire destruction continues to climb. CAL Fire reports 135 homes and 79 outbuildings have been destroyed while four additional structures were damaged. Those numbers come from the damage assessment team after a second day on the burn footprint. The fire's containment is 25% with the acreage only growing 85 acres to 65,300. Cal Fire Public Information Officer Bill Murphy details the flames path, saying, "The south and the southeastern portion of the fire continue to be very active. Particularly around the Mountain Ranch, Sheep Ranch area of the fire."
Battling the blaze are 4,500 firefighters, 499 engines, 57 water tenders, 87 hand crews, and 118 dozers.  Murphy explains overnight operations, "The crews at night are engaging the fire as much as they can, which includes constructing hand lines. They are using hand tools and shovels while bulldozers will also work throughout the night. So, they will be out there fighting the fire as aggressively as they can by hand." Murphy adds all air tankers have been redirected to other fires, like the Valley Fire, raging near Napa Valley.
Update at 6:20 pm: Cal Fire reports the Butte Fire acreage grew by 85 today to 65,300 but the good news is the containment is now 25%.
Update at 4:45 pm:  A welcome sign in the Butte Fire as Cal Fire has lifted some evacuation orders in Amador County allowing some residents back into their homes. Here is Cal Fire's rundown:
Re-Population Phase I and road closure update (mostly Amador County)
from CAL Fire incident command:
* The county roads and utility companies are working to make the area safe.
* We are doing everything we can to accommodate evacuees and assisting them back into their homes as soon possible.
The following evacuation areas have been lifted for RESIDENTS ONLY:
1) All residences on East Clinton Road, to Clinton Road
2) Residences on Irish Town Road and Clinton Road to East Clinton Road
3) All residences on Mount Zion/Lookout Road area
4) All residences on Tabeau Road from Hwy 88 to South of Arrowhead
5) All residences on Clinton Road from Amador Lane/Tabeau Road to East/West Clinton split
The following are new road closures:
1) Tabeau Road just South of Arrowhead Road
2) East Clinton Road at West Clinton/Clinton Road split
3) Tabeau Road at Amador Lane
Also, the number of PG&E customers without power in Amador and Calaveras counties has decreased. Check out this PG&E map to view the areas still in the dark.
Update at 4 pm: The much anticipated rainfall hoped for today over the more than 65,000 acre Butte Fire, which remains 20% did not materialize, but aircraft was able to take off today after being grounded by an inversion layer of smoke limiting vision. Cal Fire Nancy Longmore stationed in San Andreas says, "We didn't get any rain to speak of today on the fire, but we do have aircraft on the fire. It's pretty busy overhead. [Roar of aircraft can be heard].  As you can hear, there has definitely been some great big air planes flying over our heads today…It's definitely an advantage when we have aircraft flying overhead."
Currently, Butte Fire Incident Command reports all planes have been taken off the fire with 17 helicopters remaining on the scene. Many of those aircraft have headed to the Valley Fire in Lake County, which is 50,000 acres, according to fire officials. The flames broke out Saturday afternoon. Hundreds of homes have been destroyed and there are more than 1,000 firefighters battling that blaze.
Update at 1:25 pm: The Butte Fire has closed down many business operations in Calaveras County, but Mark Twain Medical Center (MTMC) wants residents to know their doors are open.  The hospital released this statement this afternoon:
"The services will remain open in all of our patient care centers; with the exception of both the Copperopolis Medical Center and the Arnold Medical Center. MTMC remains committed to providing the highest level of care to our patients, community and staff. We are continuing to monitor the air quality in conjunction with the recommendations of the local air pollution control agency and are working closely with multiple government agencies to access the needs of the community as the situations arise. We recognize that our community members have suffered tremendous loss, as many have been evacuated and have lost their homes and other personal possessions. Our thoughts and prayers are with everyone impacted by this disaster during this difficult time."
Update at 12:05 pm: Some good news on the Butte Fire — Calaveras County Sheriff's officials have announced a downgrade from mandatory to advisory evacuation orders for some portions of Angels Camp, which include all areas to the eastside of Main Street from Murphys Grade Road to Brunner Hill. Here is a rundown of the roadsways: Murphys Grade Road, Gardner Lane, Holly Street, Casey Street, Easy Street, Kriby Street, Avey Place, Broglio Court, Country Lane, Elderberry Lane, Dogtown Road, Clifton Road and Brunner Hill.
Update at 11:15am: School has been canceled, countywide, for both Calaveras and Amador Counties on Monday.
Meanwhile, as it stands right now, school will go on as scheduled Monday in Tuolumne County.
Update at 9:20am: Some rainfall is beginning to fall this morning near the Butte Fire. Public Information Officer Julie Rider says, "We believe rain is heading this way, however, with the moisture deprived fuels out here, as soon as the fire hits the grass it burns at a very rapid rate of spread. Unless we get significant rainfall, I'm not sure that it will have a heavy impact on our firefight."
Rider also notes that firefighting efforts were hampered yesterday because of an inversion layer, with low lying smoke, that prevented aircraft from taking off until late in the afternoon. It resulted in several spot fires igniting, and the need for additional evacuations, notably near San Andreas. Rider says, "Today the inversion layer is lifting, and they are hoping to get aircraft in the air shortly, and get up there and support the firefighters."
It is noted that another positive is that temperatures are expected to drop over the coming days.
Update at 8:20am: CAL Fire reports that most of the fire growth overnight was to the north and east. As reported earlier, the fire is 65,215 acres and 20% contained. This morning there are now 4,163 firefighters assigned, 474 engines, 79 total fire crews, 17 helicopters, 102 dozers and 55 large water tenders. The main challenges are the historically dry conditions, steep terrain and limited firefighting access.
Update at 7:05am: CAL Fire reports that the Butte Fire is now 20% contained. The new size estimate this morning is 65,215 acres.
Original Story at 6am: One positive piece of information related to the Butte Fire is that the number of PG&E customers without electricity is down to 5,900. Of those, 4,500 are in the mandatory evacuation zone. At one point there were close to 14,000 customers without electricity.
The latest size estimate this morning is 65,000 acres and it is 15% contained. CAL Fire will release a new size estimate following the morning briefing.
Portions of San Andreas remain under a mandatory evacuation this morning, including Pope Street, West Murray Creek, Lewis Street, Miller Street, San Andreas Elementary, Goldstrike, Mountain Ranch Road East to Windmill, Wimbledon Drive, Forest Hill, and Turner Court. The fire activity picked up near San Andreas late yesterday afternoon.
Other areas of Calaveras County still under a mandatory evacuation, according to CAL Fire, include the following:
The town of Mokelumne Hill, east of Hwy 49 from the Amador/Calaveras County line south to Goldstrike Road. South on Goldstrike Road to the Community of San Andreas. Rural areas East of San Andreas to Mountain Ranch Road. Mountain Ranch Road to Calaveritas Road to Fourth Crossing. Fourth Crossing to Hwy 49. East side of Hwy 49, south to north side of Hwy 4 (Angels Camp). North side of Hwy 4 east to town of Arnold. All of Highway 26from Mokelumne Hill North to the Amador/Calaveras County line. To include the communities of Glencoe, Westpoint, and Wilseyville.
Areas of Amador County under a mandatory evacuation:
Canyon View, Fig Tree Lane, and Ponderosa Way; the town of Pine Grove to include all areas South of Hwy 88 from West Clinton Road, East to Ranch Drive, Ranch House Estates, Pine Acres, Jackson Pines, Pine Drove Ranchettes and Lake Tabeau.
Areas of Calaveras County under a less severe evacuation advisory:
The City of Angels Camp, the town of Arnold, northwest of Hwy 4 includeing sub-divisions of Lakemont, Mill Woods and Meadowmont. Hwy 4 North to Sheep Ranch Road/Blue Lake Springs subdivision, Big Trees State Park, town of Dorrington, town of Murphys and Forest Meadows, town of San Andreas, Poole Station Road, Carroll Kennedy Road, Cement Plant Road, Demearest Mine Road, Oak Valley Road, Gelding Road, Stallion Road, Deer Creek Road, and Copello Road.
Areas of Amador County under an evacuation advisory:
Hwy 88 from Ranch Road East to Tiger Creek Road (Red Corral and Buckhorn Areas).
Red Cross Evacuation Centers are up running at the Jackson Rancheria Hotel,  Jenny Lind Veterans Hall and Valley Springs Good Samaritan Church.
Other groups have set up evacuation centers at the Burson Full Gospel Church, Burson Glory Bound Fellowship, and the Copperopolis Elementary School.
Large Animal Pet Shelters: (Calaveras) Calaveras County Fairgrounds (Amador) Amador County Fairgrounds.
Click here for a rundown of fire activity the next day, Monday September 14th, 2015.
Click here for a rundown of fire activity from Saturday.
A special thanks to our community news partners for sending in pictures. Photos can be e-mailed to news@clarkebroadcasting.com.