Update: Butte Fire Overnight Suppression Efforts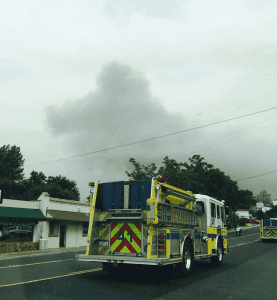 Fire Activity In San Andreas
Update at 9:30 pm: With more firefighters on the ground overnight battling the 65,000-acre Butte Fire.  Cal Fire spokesperson Nancy Longmore outlines the overnight fire suppression efforts saying, "I don't know the specific targets, but they are just continuing to build line and as best as possible get a line around this monster."
Update at 7:35pm: CAL Fire has released the latest numbers on the Butte Fire. While some details are encouraging, others show the devastation the flames have brought. Firefighters have been able to hold the acreage at 65,000 and the containment has increased to 15%. However, Cal Fire damage crews spent the day on the burn scar and report unfortunately, 86 homes and 51 outbuilding have been destroyed. The number of firefighters battling the blaze has hiked to 3,852 with 452 engines and 94 dozers on scene.
Update at 6:35pm: Following today's town hall meeting at Calaveras High School, CAO Shirley Ryan had a message for residents in the mandatory evacuation zones. Click here to view the video.
To view the speech at the town hall meeting by Calaveras County Board of Supervisors Board Chairman Cliff Edson, click here.
Update at 4:15pm: The Calaveras County Sheriff's Office has issued a mandatory evacuation order for parts of San Andreas. It includes Pope Street, West Murray, Lewis Avenue, Miller Street, Wimbledon Drive, Forest Hill, Turner Ct., and along Mountain Ranch Road near Windmill, and the Gold Hunter Subdivision.
Update at 3:20pm: Reporter Tori James was on hand at today's Town Hall meeting at Calaveras High School. Some of the featured speakers included Josh White, CAL Fire Tuolumne-Calaveras Chief, Paul Young, Fire Chief for the San Andreas Fire Department, Cliff Edson, Calaveras County Board of Supervisors Chairman, and Kim Zagaris, State Fire and Rescue Chief for the State of California.
It was noted that five major wildfires are currently burning in California, but the Butte Fire is the number one priority. There are 350 engines from all over the state. The fire has been, at times, moving 60-70 ft. a minute. There are an estimated 13,000 evacuations. The main priority is protecting lives over property. Once an individual receives a mandatory evacuation, and has left, they are not allowed to go back to their property.
The Red Cross considers the Butte Fire a national disaster and wants everyone who evacuates to register at one of the shelters so that they can prove the numbers, and keep track of the displaced for their planning for relief and recovery efforts. The Red Cross info line is 925-588-6678.
Calaveras County Public Health has a plan in place for the senior population. Red Cross says they can help folks get meds. Seniors who are frail can get three days shelter, air purifiers and transportation. Call Common Ground Senior Services  for more information, at 209-498-2246.
The Calaveras County Sheriff's Office is getting complaints about looters. Law enforcement is being brought in from outside the area, through mutual aid agreements, to help provide additional patrol.
The Jail and Sheriff's Office have not been evacuated. The convalescent home is also currently ok, with fire lines around it.
There will be no school, Monday, countywide in Calaveras County.
If the road is closed, mail will not be delivered. Those postal customers impacted should contact the post office.
The video in the upper left hand box shows an interview conducted by Tori James with Kim Zagaris, State Fire Rescue Chief with the State of California.
Update at 1:20pm: The first of two town hall meetings kicked off at 1pm at the Calaveras High School gymnasium. As you can see in the photos, a strong crowd is on hand. A second town hall meeting will run from 4-6pm at Bret Harte High School. The fire officials noted toward the start of the first meeting that the cause of the Butte Fire is still under investigation, and it likely will be for a bit. It was also noted that fire and emergency officials are arriving from all across the state, and there are currently 350 engines. We have a reporter on hand and will bring you additional details.
Update at 12pm: At least one case of looting has been reported in relation to the Butte Fire. The Placer CHP division reports that a suspect was taken into custody at a home in San Andreas this morning, after there were signs of forced entry. Agencies assisting the investigation included the San Andreas CHP, Angels Camp PD, Calaveras County Sheriff's Office and Yolo County Sheriff's Office. No further information is immediately available.
Update at 11:20am: The American Red Cross reports that evacuation centers are now open in Calaveras County at the Good Samaritan Church in Valley Springs, at 4684 Baldwin Street, and at the Jenny Lind Veterans Hall at 189 Pine Street. In Amador County, an evacuation center remains open at the Jackson Rancheria Hotel. Red Cross Gold Country Spokesperson Lilly Wyatt says the Calaveras County Fairgrounds location was closed because it is now being used as a firefighting base camp, and the San Andreas Town Hall location was closed because it is under an evacuation advisory.
An estimated 230 people passed through the Calaveras County fairgrounds yesterday afternoon. Last night, 220 stayed at the Jackson Rancheria site, 28 at the Good Samaritan Church and 17 at the Jenny Lind Veterans Hall.
Update at 8:15am: CAL Fire has updated its information regarding what areas are under evacuation orders and advisories. CAL Fire's official information is listed below:
Mandatory Evacuation Orders: 
(Calaveras County) Town of Mokelumne Hill, East of Hwy 49 from the Amador/Calaveras County line South to Goldstrike Road. South on Goldstrike Road to the Community of San Andreas. Rural areas East of San Andreas to Mountain Ranch Road. Mountain Ranch Road to Calaveritas Road to Fourth Crossing. Fourth Crossing to Hwy 49. East side of Hwy 49 South to North side of Hwy 4 (Angels Camp). North side of Hwy 4 East to Town of Arnold. All of SR 26 from Mokelumne Hill North to the Amador/Calaveras County line. To include the communities of Glencoe, Westpoint, and Wilseyville.
(Amador County) Canyon View, Fig Tree Lane, and Ponderosa Way; the Town of Pine Grove to include all areas South of Hwy 88 from West Clinton Road, East to Ranch Drive. Inclusive of the Communities of Ranch House Estates, Pine Acres, Jackson Pines, Pine Drove Ranchettes and Lake Tabeau
Evacuations Advisories:
(Calaveras County) City of Angels Camp, Hwy 49 South to Hwy 4 South at the city limits of Angels Camp. Town of Arnold, Northwest of Hwy 4 includes sub-divisions of Lakemont, Mill Woods and Meadowmont. Hwy 4 North to Sheep Ranch Road/Blue Lake Springs sub-division, Big Trees State Park, Town of Dorrington, Town of Murphys and Forest Meadows. Town of San Andreas. Poole Station Road, Carroll Kennedy Road, Cement Plant Road, Demearest Mine Road, Oak Valley Road, Gelding Road, Stallion Road, Deer Creek Road, Copello Road.
(Amador County) Hwy 88 from Ranch Road East to Tiger Creek Road (Red Corral and Buckhorn Areas).
Update at 7:40am: CAL Fire reports that containment on Butte Fire was increased to 10% over night. This morning the fire is estimated to be 64,728 acres. CAL Fire says at 15 structures have been destroyed. 3,299 firefighters are now assigned to the incident.
Original story at 6:25am: The Butte Fire burning in Calaveras and Amador Counties has scorched at least 64,700 acres and it is only five percent contained.
2,409 firefighters are assigned to the incident. CAL Fire reports this morning that evacuation orders remain in effect for the town of Mokelumne Hill, rural areas east of San Andreas, the stretch of Highway 4 from Murphys Grade Road to Avery, in Glencoe, West Point and Wilseyville. In Angels Camp, the order is in place feeor Murphys Grade Road, Gardner Lane, Holly Street, Casey Street, Easy Street, Kirby Street, Avey Place, Broglio Court, Country Lane, Elderberry Lane, Dog town Road, Clifton Road and Brunner Hill. In Amador County, the order includes communities like Ranch House Estates, Pine Acres, Jackson Pines, Pine Drove Ranchettes and Lake Tabeau. CAL Fire officials say that if you are unclear if your home is in the evacuation area, it is better to just be on the safe side and leave. There are also areas under a less severe evacuation advisory. This includes the rest of the city of Angels Camp, the town of Arnold, Dorrington, Big Trees State Park, Murphys and San Andreas.
CAL Fire says the topography and terrain is causing notable challenges. Yesterday afternoon Governor Jerry Brown signed off on a state of emergency declaration, clearing the way for additional state resources and aid. The California National Guard is also now engaged. CAL Fire spokesperson Nancy Longmore notes that the Calaveras County Fairgrounds is being transitioned into a base camp, and the evacuation center there is moving to the Valley Springs Veterans Hall. There are also evacuation centers at the San Andreas Town Hall and the Jackson Rancheria Hotel. At this point, evacuated animals are still being housed at the Calaveras County Fairgrounds. Calaveras County Animal Services in San Andreas is also assisting with pets and animals. The number to call is 209-754-6509.
The Calaveras County Administrator's Office reports that two Butte Fire town hall meetings are planned for this afternoon. The first will run from 1-3pm at the Calaveras High School Gymnasium, and the second from 4-6pm in the Bret Harte High School multi-purpose room.
The following road closures are in effect, according to CAL Fire:
(Amador County) Clinton Road at Butte Mountain Road (Both Ends) Butte Mountain Road Cutoff at Clinton Road. Amador Lane at Clinton Road, Electra at SR 49, Ponderosa Road at Tabeaud, Access to Lake Tabeaud is closed; Hwy 88 at W. Clinton Road, Hwy 88 at Irish Town Road, Hwy 88 at Tabeaud Road, Hwy 88 at Aqueduct Circle, Highway 88 at Mount Zion, SR 26 South of Hwy 88.
(Calaveras County) SR 26 from Mokelumne Hill to Ridge Road; Ridge Road closed to Railroad Flat Road; Railroad Flat Road closed to Mountain Ranch Road; Mountain Ranch Road closed to Hwy 49; Michel Road is closed.
A special thanks to our community news partners for sending in photos. Pictures can be e-mailed to news@clarkebroadcasting.com.
Click here to read what happened the next day on September 13th.
Click here to read a rundown of yesterday's Butte fire information.
Butte Fire General Facts
Red Cross Safe and Well website is here to register your current status and check for registrants.
Cal Fire spokesperson Nancy Longmore advises residents "if they feel threatened or unsafe, to just go ahead and leave — because the fewer people that we have in the fire area, the fewer chances there are of panic-driven vehicle accidents or heart attacks or those kinds of things."
Roads in the area are needed for emergency workers to get to where they need be. Residents and visitors should avoid the area.
Evacuation procedure and preparation information under community Tab under Fire Info here
Eight homes have been destroyed and 6,400 structures are threatened by the Butte Fire

started Wednesday, Sep 9 at 2:36PM
160 acres initially
2,600 overnight reported at 6am Thursday,
4,000 acres reported at 7am
14,000 acres reported at 9am
Friday morning the acreage went from 31,974 acres to 64,728 acres.

The Butte Fire is managed by a CAL Fire Type 1 incident management team, (the highest priority incident level) Cooperating agencies include CAL OES, the Forest Service, BLM, PG&E, Calaveras County Sheriff's Office, Amador County Sheriff's Office, Red Cross, Caltrans, CA State Parks and the Amador Fire Protection District.
CAL Fire is awaiting a damage assessment team to arrive today to update the number of structures burned.
Click here to read a story about concerns related to the smoke.

Tuolumne County Health Officer Liza Ortiz: Elderly, very young children and those with health conditions including asthma or COPD should limit their outdoor activities when local air quality is "unhealthy for sensitive groups" (visibility less than 5 miles).
Calaveras County Supervisors declared a local state of emergency due to the Butte Fire at 1:40 Thursday September 10th Details here
Governor Jerry Brown declared the Butte Fire a statewide emergency reported at 3:50pm Friday
PG&E reports that around 14,000 customers were without electricity on The 10th and by the afternoon 11,128 remained with out power.
Columbia College in Tuolumne closed at 1pm Friday due to smoke. No Tuolumne schools were closed.
Calaveras Unified School District was closed Thursday and Friday. Bret Harte School District released students early Friday due to mandatory evacuations.
Football games:

Hilmar hosted Sonora due to smoke. Sonora won 36-35.
Calaveras High played at Modesto Christian as scheduled winning 38-25
Summerville High played at Bradshaw Christian as scheduled losing in double overtime 57-56.
The Bret Harte game was moved to Monday in Escalon.