New Water Data Reflects Conscientious Usage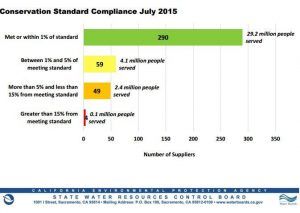 CA Water Conservation Compliance Data, July 2015

View Photos
Sacramento, CA — Despite the July heat, the latest water data shows conservation efforts are improving state-wide as Mother Lode residents remain in step.
According to the monthly State Water Resources Control Board report, published Thursday, Californians reduced water use by over 31 percent in July, making it the second consecutive month that residents did about six percent better than what Governor Jerry Brown's mandated 25 percent emergency conservation standard, set back in April, was seeking.
Water board officials note that saving water during the hot summer months is critical to meeting the state's overall 25 percent savings goal through February 2016. These latest figures represent a movement of nearly 229,000 acre-feet, or 74.6 billion gallons in water savings, closer to the targeted 1.2 million acre‑feet.
The Groveland Community Services District (GCSD), which has a customer base of about 3,400 and an assigned 24 percent conservation standard, squeezed 43 percent in water savings in the latest reporting period. Calaveras County Water District (CCWD), which serves approximately 48,630 and must maintain a 16 percent conservation standard, came in at 40 percent.
Tuolumne Utilities District (TUD), with nearly 29,000 customers online, recorded 29 percent in water savings against its state-assigned standard of 24 percent. As reported earlier, TUD recently reduced its own internal mandate from 30 percent to 25 percent because customers' conservation efforts were actually costing the district a significant revenue loss, enough to possibly trigger a rate increase.
The water board's report indicates in its latest measurement that dozens of communities reduced water use more than 15 percent beyond their conservation standards. Water suppliers report that while complaints were down, warnings edged up and penalties for excessive water use are also on the rise under increased community outreach and enforcement efforts.
As previously reported, the board recently launched a website to report water waste. In addition to providing drought facts and new ways to conserve, the state's SaveOurWater.com website continues to post timely news and information updates such as drought-time tree care tutorials. Click here for more details on this latter topic.