T.U.D. Reduces Mandatory Conservation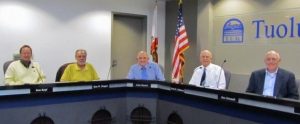 T.U.D. Board (Ron Kopf, Ron Ringen, John Maciel, Kent Johnson and Jim Grinnell)

View Photos
Sonora, CA — Citing that too much conservation hurts the budget, the T.U.D. Board of Directors reduced the mandatory water conservation levels from 30% down to 25%.
That figure is just above the state's mandate of 24% for the district. The higher 30% number was put in place at a time when there were many unknowns about whether Pinecrest Lake and Lyons Reservoir would fill to capacity. Board member Jim Grinnell pointed out at yesterday's meeting that he was originally against the 30% mandate. "I don't want to pat myself on the back, but I think I was right," he said. "We achieved a 41% reduction in June and a 41% reduction in July, when we were only required to receive a 24%."
Grinnell added, "This has cost us a lot of money, I think.  We didn't sell as much water as we expected to sell.  Last year we were down $1.8-million, and this year, if we keep going, we'll probably be down $2-million, and we need the money."
Board member Kent Johnson pointed out that it is difficult to ask customers to reduce water usage, and then come back months later requesting a rate increase to make up for not selling that water.
All of the board members agreed that it was now appropriate to reduce the conservation level, and the change to 25% was approved unanimously.