Rocky Fire More Than Half Contained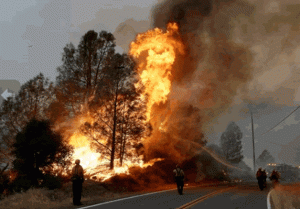 2015 Rocky Fire in Lake County

View Photos
Lake County, CA – Rocky Fire north of San Francisco is now 62% contained and has grown by just 36-acres for a total of 69,636.
Most of the nearly 1,200 residents under mandatory evacuation orders were allowed to return to their homes Friday, while two highways used as firebreaks reopened. The number of structures threatened remains at 6,529. The flames have destroyed 43 homes and 53 outbuildings and 8 structures are damaged.  Cal fire has released resources from the scene. The number of firefighters has dropped from 3,635 to 2966.  Currently, there are 195 engines, 84 fire crews, 17 dozers, 30 water tenders; along with 13 helicopters and 4 air tankers in the skies.
As previously reported, on Thursday, Governor Jerry Brown visited firefighters to get a first-hand look at the flames and destruction.  He warned the public to "buckle-up" for a possible rough road ahead as the worst of the fire season could be yet to come citing some of the state's mega fires were sparked in late August, like the Rim Fire, September and October.
Cal Fire's estimated containment for the fire remains Thursday, August 13.