T.U.D. Reviewing Potential Conservation Measures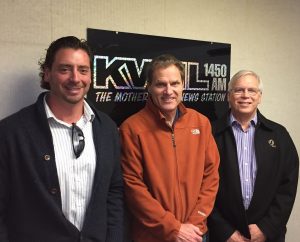 Rob Kostlivy, Darrell Slocum and Tom Scesa

View Photos
Sonora, CA — The Tuolumne Utilities District is currently reviewing potential water reduction measures for later this spring and summer.
Governor Jerry Brown is mandating that all Californians to cut usage by at least 25%, compared to 2013. T.U.D. General Manager Tom Scesa says, "The state standards do allow lawn watering, but on a restricted number of days. We'll definitely impose that. Things will really depend in the next couple of weeks on what happens with Pinecrest Lake and Lyons Reservoir. If we can get those up to the top, we can go to basically what I would call the state minimum restrictions."
There is some additional optimism following last week's storm system that dropped over a foot of snow in many areas, but PG&E is not currently projecting that Lyons and Pinecrest will fill to capacity.
The drought is also hitting T.U.D.'s budget. With less water coming in, there is less to sell. Scesa says the water budget has a reduced revenue of 20%, and the district has had to cut staff and expenses. Scesa says it is running on a "very minimal level." He notes that he expects the district to soon look at potential rate increases to invest in infrastructure.
On another drought related note, Tuolumne County has now reported 153 impacted water wells, and several in the community are seeking assistance through drought programs offered by ATCAA. Some areas impacted are being added to T.U.D.'s system, in part due to state grant funding.
All of these topics were discussed on Mother Lode Views this past weekend. Click here to find the entire 30-minute show.