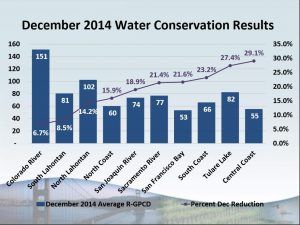 December 2014 Water Conservation Results

View Photos
An informal myMotherLode poll featured this week asked, "Understanding the importance and shortage of water, are you willing to pay a higher rate?" 83 percent said No and 17 percent said Yes. A related poll previously asked if water should be released from area lakes for fish. Eighteen percent were willing to let water go to the fish.
One common sense statement about sharing ground water is; you can't conserve what you don't measure. Wells aren't metered, but water companies measure and charge for it and they continue to struggle to pay for aging infrastructure. Water delivery systems remain a top industry priority in managing degrading buried infrastructure systems, as well as the open ditch system in Tuolumne County. During the last five years, utility revenues have been further affected by consumer conservation measures, slow growth in the housing market, drought conservation measures and, in general, a decrease in per-person water use.
The gap between needing to upgrade and current resources within utility finances is pronounced, according to the third annual Black & Veatch Strategic Directions: U.S. Water Industry report. More than 60 percent, of 368 representatives from different water industries who were polled, say they need an annual rate increase of 5 percent or more each year in order to cover costs. That includes all fixed costs, operational and maintenance needs, funding for capital improvement and contributions to reserve funds. The industry report noted an astonishing 20 percent of respondents; "suggest that rate increases of 10 percent or more are needed every year for the next 10 years in order to cover costs. This would amount to a doubling of current rates in roughly seven years, and in many cases may reflect decades of rate increase deferrals and/or large-scale environmental compliance programs."
The survey said the findings should offer some solace to water leaders as it indicates that they are not alone in requesting sustained rate increases. Details on recent conservation efforts across the state are here.