MotherLode Still Squeezing Water Savings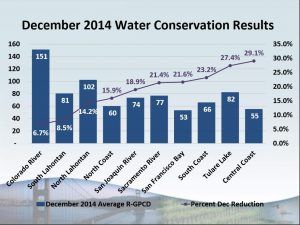 December 2014 Water Conservation Results

View Photos
Sacramento, CA — Today, the State Water Resources Control Board reports that, due both to wet weather and residential efforts, December's statewide urban water conservation rate reached 22 percent and Mother Lode numbers continue to impress.
"It is clear that residents up and down the state have been making a concerted effort to save water," says State Water Resources Control Board Communications Director George Kostyrko. He adds, "We've noticed that, especially in the Foothills, in the Calaveras County area, we've seen an increase in numbers ranging between 15 and 25 percent in savings – that is phenomenal…and jurisdictions, such as the Tuolumne District, where they exceeded not only the Governor's voluntary compliance rate of 20 percent, but really, some of the highest numbers in the state, at over 25 percent."
The Mother Lode region falls within the San Joaquin Hydrologic Region. Specific Tuolumne Utilities District numbers for December 2014 indicated over a 25 percent reduction in residential water use over the previous year, at 74 gallons-per-capita-per-day (R-GPCPD), for its population of approximately 29,000. Groveland Community Services District, which services a population of 3,400, showed a 41 percent reduction for the month over the previous year, at 66 R-GPCPD. Calaveras County Water District numbers showed just over a 15 percent decrease in residential water use, at 79 R-GPCPD, by its population of 31,750.
The latest survey, which crunches numbers from about 400 urban water retailers, shows that water conservation statewide jumped 12 percent in December from the previous month, the highest water savings rate since reporting began last July under mandate by the State Water Board.
"Today's announcement is welcome news that demonstrates the importance of outdoor water savings," comments State Water Board Chair Felicia Marcus. "We have just gone through the driest January on record and it appears we are entering a fourth year of drought, which is awful to contemplate but we must. Conservation is still the smartest and most cost effective way to deal with this difficult drought. Our challenge will be to keep outdoor irrigation to a minimum as we move into the warmer spring months."