Tulloch Forum Hopes To 'End Fish Flows Now'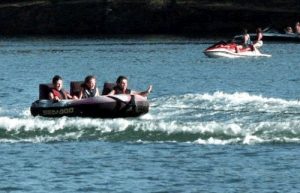 Lake Tulloch Recreation

View Photos
Copperopolis, CA – There are escalating concerns over drought-motivated plans proposing the tapping of Lake Tulloch for downstream fish and farm relief. It has garnered enough concern among stakeholders to host a forum this weekend that aims to "end fish flows now."
More than a month ago myMotherLode.com initially reported plans to possibly draw down Lake Tulloch waters as soon as this summer. Since then, numerous information gathering meetings have ensued, as public officials and private citizenry discussed potential impacts. While it has become clear that farming needs for upstream water will clearly become more serious if drought conditions carry over into next year, the primary drivers for any such action this year are current federal wildlife agency mandates aiming to protect downstream fish habitats.
So, this coming Saturday at Black Creek Park (920 Black Creek Drive, Copperopolis), the public is invited to attend The Water Crisis Forum: Understanding the Challenge for the Sierra Foothills and the Valley. Spearheaded in part by The Lake Tulloch Alliance, the organization's spokesperson Jack Cox explains, "We hope to provide the citizenry…the people who are mostly being impacted…with the knowledge they need to confront this [issue] and as well as the public officials to interact with." The event will begin at 10 a.m. There is no charge to attend.
Attendees will be encouraged to contact and share their their opinions with local, state and federal government representatives. Among the invited supporting legislators and officials expected to be on hand are U.S. Congressman Tom McClintock; State Senator Tom Berryhill and Assemblymember Frank Bigelow; Tuolumne County Supervisor Karl Rodefer; and Board Member of the Tri Dam Authority and Oakdale Irrigation District Frank Clark.
Of the current fish flows issue, Cox states, "The public policy that the [Obama] Administration is advocating is blind science — and blind to the needs of people — that's the bottom line. We need public policy based on sound academic and scientific analysis, and that's not happening." He adds, "Governor Brown, on Meet the Press [Sunday, made] an impassioned plea through the Water Resources Board about the drought…we would ask the Governor to intercede with us."
Cox further explains the move behind the forum's focus. "We support an immediate injunction filed in federal court to end these fish flows immediately…hopefully, maybe some of these agencies can do just that, file an injunction." In addition to the above mentioned lawmakers, Cox says that Democratic State Assemblymember Adam Gray and GOP Leader Kristin Olsen are also in opposition of the current Fed's position. "So, this is not about a Republican position, it's a Republican and Democratic position on sensible public policy."
Click here for more details about the forum.