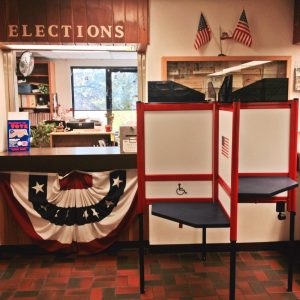 Tuolomne County Election Office

View Photos
For those who have yet to register to vote in the Motherlode, there's still time.
Monday, October 20 is the drop-dead deadline for registration, which can be done in-person, online or by mailing in a completed form.
Calaveras County Elections Coordinator Rebecca Turner explains, "We need to have all registration cards postmarked by that date and if [voters] would like to go online to the Secretary of State's website, they can go to S-O-S-dot-C-A-dot-gov. There will be a link there, and that can be done through midnight on Monday."
Residents can also still sign up to receive an absentee ballot or return a completed ballot. As Tuolumne County Elections Official Debbie Bautista states, "If you are a vote by mail voter and you have been voting in all of the last elections and…you just didn't didn't request to vote by mail, please call the office so we can get a ballot out to you. Or, come by the office."
For questions and assistance, Calaveras County residents may call the Elections Office in San Andreas, located at 891 Mountain Ranch Road, room 209. Office hours are weekdays, from 8 a.m. to 4 p.m. For more information, call 754-6376.
In Tuolumne County, contact the Elections Office in Sonora, located at 2 South Green St., on the second floor in the clerk's office. Office hours are weekdays, from 8 a.m. to 5 p.m. For more information, call 533-5570.
Both officials encourage residents to make use of the state and county resources available online that provide details that include area polling places, lists of contests and candidates, and sample ballots for the November 2014 General Election.
For more information, Calaveras County residents click here and Tuolumne County residents click here.