Future Of Twain Harte Lake Unclear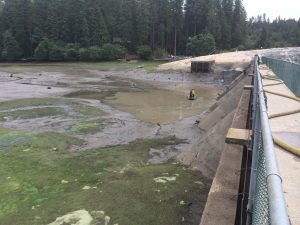 Twain Harte Lake drained

View Photos
Twain Harte, CA — The leak at the Twain Harte Dam was discussed at this morning's Tuolumne County Board of Supervisors meeting.
Twain Harte Lake is completely dry while state and local officials assess the problem at hand. "Trying to get financial aid for this is going to be interesting, once we know what the problem is, because it is a private lake," said County Administrator Craig Pedro. "Usually the kinds of programs we tie into are more geared towards public owned facilities. We're going to have to make a case about the value of it (Twain Harte Lake) from the standpoint of emergency water supply, and the very real sewer threat that we have there."
The lake is owned by the Twain Harte Lake Association.  Click here to view a story from yesterday showing new issues that emerged related to the adjacent sewer pipes.
Several local and state agencies have been helping to coordinate the emergency response over the past couple of days, including the State's Office of Emergency Services.
A leak was discovered in the dam on Sunday morning. Shortly before, a "boom" was heard coming from an adjacent granite rock. A second "boom" was heard yesterday. Cracks have been discovered in the granite.