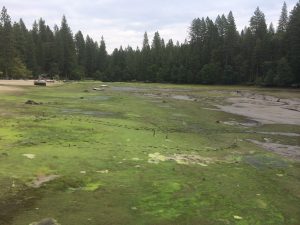 Twain Harte Lake drained

View Photos
Twain Harte, CA — The draining of Twain Harte Lake was completed this morning, but new cracking and a sewer line are adding to the problem.
Tuolumne County Administrator Craig Pedro says, "There has been additional cracking. I don't know how many new ones have occurred."
In addition, a sewer line that wraps along the rock and dam has caused concern.
Pedro says, "As a precautionary measure, a temporary bypass of that sewer line has been put in just to make sure that if there is any more movement, the line won't be ruptured."
State and local officials were on the scene this afternoon assessing how significant the damage is to the rock, dam and surrounding sewer infrastructure.  Pedro says state officials will be using survey markers on the dam and rock to monitor any additional movement to help with that assessment, which could take weeks.  The lake will remain closed until further notice and the public is asked to avoid the area.
One note, local officials say the higher flow levels along Twain Harte Creek and Sullivan Creek have returned to normal and will remain at summer flow levels.
Click here to read an earlier story from about the damage.