Update: Forest Implements Full Suppression Efforts On Four Fires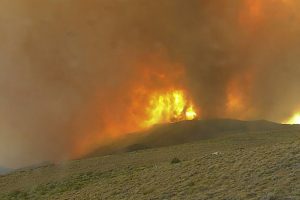 Tamarack Fire near Markleeville 7-22-21 3:45 pm

View Photos
Update at 3:55 p.m.:  A response to a question raised yesterday by Clarke Broadcasting to Stanislaus National Forest officials regarding full fire suppression efforts utilized recently on the forest.
As reported below in the initial story, there has been some criticism of the U.S. Forest Services policy of monitoring lightning strike fires instead of immediately sending full air and ground resources. Critics supported their stance by targeting the Tamarack Fire burning in Alpine County. It was ignited by a lightning strike on July 4th with no suppression effort taken. Then on Sunday, July 18, it exploded and today has reached over 50,000 acres with just 4% containment, as detailed here.
Yesterday, Stanislaus National Forest (STF) officials detailed that they were using full suppression efforts on four lightning strike fires (detailed below) but did not relay whether this was a permanent change. Clarke Broadcasting requested clarification as to whether this tactic would be used until the end of the fire season due to the drought conditions, but did not receive a response by the time this story was posted. Today, STF spokesperson Traci Allen replied in an email, "The plan is full suppression unless conditions change." However, no explanation of "condition changes" was given or what would be required to make the switch back to monitoring fires.
Additionally, Tamarack Fire Incident Command has released a timeline of the fire suppression efforts used on the blaze. It states,  "The Tamarack Fire started as a lightning strike in the Mokelumne Wilderness on a rocky ridgetop with sparse fuels and natural barriers to fire spread. Friday, July 16 high winds caused rapid downslope fire spread. With this change in the fire, resources were quickly dispatched to the site. Additional resources were ordered, including very Large Air Tankers (VLAT), Single Engine Airtankers (SEATS) and helicopters. The Type 2 Great Basin Incident Management Team #3 assumed command of the fire on Sunday, July 18 at 6 a.m. transitioning to the Rocky Mountain Type 1 Incident Management Team on Tuesday, July 20." They added that many federal, state, and local government agencies, as well as organizations and businesses, are cooperating to make progress on the fire.
Original post at 5:13 p.m. Wed., July 21: Sonora, CA – With the Tamarack Fire reaching nearly 40,000 acres and no containment after being ignited by a lightning strike on July 4th, forest fire officials have received some criticism on their approach to battling blazes.
One person questioning the U.S. Forest Service's policy of monitoring lightning-strike fires, especially in these dry conditions, is Mother Lode Congressman Tom McClintock. He is requesting more information on why there was a lack of suppression action to combat that fire, as reported here on Tuesday (July 20).
Today Stanislaus National Forest officials reported, "In the past 24 hours, forest firefighters have been responding with full suppression efforts on four lightning-caused wildfires, each less than an acre in size." They detailed that three of the fires, Paradise, Arnott and Woods, are in the Lightning Mountain area and Arnot Peak area of the Carson-Iceberg Wilderness. The Highland Fire is the fourth burning near Black Dome and is visible from Highway 4. Forest fire officials added, "Today ground resources are actively cutting line and putting the fire outs."
Clarke Broadcasting questioned whether this new "full-court press" approach of sending both air and ground resources immediately to a spotted blaze will be made permanent for the rest of the fire season due to the high fire danger and drought conditions but has not yet received a response.
Currently, the Tamarack Fire near Markleeville remains at 39,045 acres with no containment, although an estimated containment date of Saturday, July 31st has been posted by forest fire officials. Evacuations and road closures remain in place in the area. There are 1,200 firefighters assigned to the lightning strike fire.
Additionally, the Henry Fire burning in the Carson-Iceberg Wilderness near Spicer Reservoir on the forest has gained 52% containment and is 1,316 acres. It ignited from a lightning strike on June 24th. Its estimated full containment date given is Tuesday, July 27th. One structure is threatened and none have been destroyed. 80 personnel are working that blaze.